Product Pathways - Autophagy Signaling
IRGM Antibody (Rodent Specific) #14979
PhosphoSitePlus ® protein, site, and accession data: IRGM
| Applications | Dilution | Species-Reactivity | Sensitivity | MW (kDa) | Isotype |
| --- | --- | --- | --- | --- | --- |
| W | 1:1000 | Mouse,Rat, | Endogenous | 40 | Rabbit |
Species cross-reactivity is determined by western blot.
Applications Key: W=Western Blotting,
Specificity / Sensitivity
IRGM Antibody (Rodent Specific) recognizes endogenous levels of total IRGM protein in mouse and rat.
Source / Purification
Polyclonal antibodies are produced by immunizing animals with a synthetic peptide corresponding to residues surrounding Arg215 of mouse IRGM protein. Antibodies are purified by protein A and peptide affinity chromatography.
Western Blotting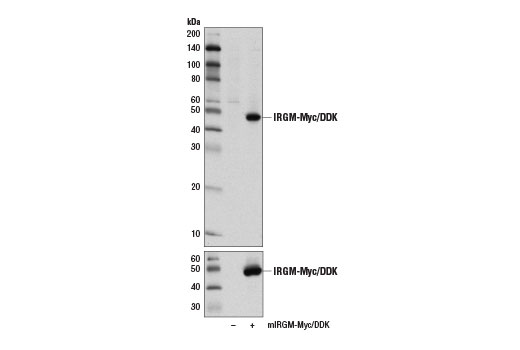 Western blot analysis of extracts from 293T cells, mock transfected (-) or transfected with a construct expressing Myc/DDK-tagged full-length mouse IRGM protein (mIRGM-Myc/DDK; +), using IRGM Antibody (Rodent Specific) (upper) and Myc-Tag (71D10) Rabbit mAb #2278 (lower).
Background
Immunity-related GTPase family M protein 1 (IRGM, LRG-47) belongs to the p47 family of immunity related guanosine triphosphatases (IRGs) that regulate innate immune responses to intracellular pathogens (1-3). Research studies indicate that IRGM plays a role in autophagy during clearance of intracellular bacteria (4). Expression of IRGM in mice, but not in humans, is induced by inflammatory signals that include interferon and LPS (2,3). Polymorphisms in the corresponding IRGM gene are associated with some cases of tuberculosis (5-7), Crohn's disease (8,9), and severe sepsis (10). Additional studies indicate that IRGM functions through regulation of autophagy (4). Mitochondrial IRGM plays a role in mitochondrial fission, membrane polarization, and mitophagy (11). Knockout mice for IRGM show increased susceptibility to infection as well as intestinal inflammation and Paneth cell abnormalities (12,13). Knockout mice against IRGM are also resistant to neuronal autophagy following stroke (14). RNA viruses commonly target IRGM in order to suppress autophagy and enhance infection (15).
Application References
Have you published research involving the use of our products? If so we'd love to hear about it. Please let us know!
Protocols
14979 :
Companion Products
---
For Research Use Only. Not For Use In Diagnostic Procedures.
Cell Signaling Technology is a trademark of Cell Signaling Technology, Inc.
Tween is a registered trademark of ICI Americas, Inc.
Cell Signaling Technology® is a trademark of Cell Signaling Technology, Inc.
用户评论 --- 共 0 条
该产品暂无评论!