Product Pathways - Cell Cycle / Checkpoint
CENP-E Antibody #14977
PhosphoSitePlus ® protein, site, and accession data: CENPE
| Applications | Dilution | Species-Reactivity | Sensitivity | MW (kDa) | Isotype |
| --- | --- | --- | --- | --- | --- |
| W | 1:1000 | Human, | Endogenous | 270 | Rabbit |
Species cross-reactivity is determined by western blot.
Applications Key: W=Western Blotting,
Specificity / Sensitivity
CENP-E Antibody recognizes endogenous levels of total CENP-E protein.
Source / Purification
Polyclonal antibodies are produced by immunizing animals with a synthetic peptide corresponding to residues surrounding Val1897 of human CENP-E protein. Antibodies are purified by protein A and peptide affinity chromatography.
Western Blotting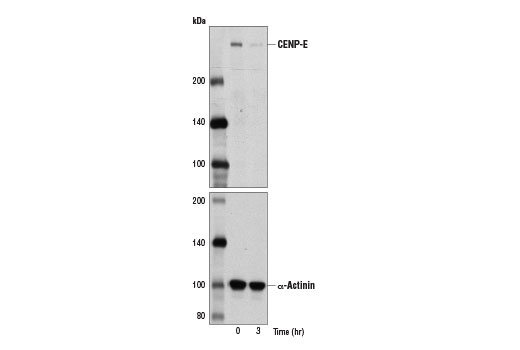 Western blot analysis of extracts from U-2 OS cells treated with Nocodazole #2190 (10 nM, 16 hr) and released from mitosis into fresh medium for indicated times using CENP-E Antibody (upper) and α-Actinin (D6F6) XP® Rabbit mAb #6487 (lower).
Background
Centromere-associated protein E (CENP-E) is a kinesin-like motor protein and mitotic-checkpoint kinase BUB1B binding partner that is essential for establishing and maintaining stable attachments between mitotic chromosomes and spindle microtubules (1). CENP-E plays an important role as a motor protein in the alignment of chromosomes during prometaphase (2). Research studies indicate that CENP-E protein expression peaks in late G2 and M-phases of the cell cycle before the protein is degraded at mitotic exit (3). Additional studies show that the loss of CENP-E function results in cell cycle arrest in mitosis. Mutations in the corresponding CENPE gene can result in autosomal recessive primary microcephaly-13, a developmental disorder characterized by small head circumference, dysmorphic facial features, short stature, and delayed psychomotor development (4). Since CENP-E is essential for mitotic progression and is required for cellular proliferation, it has become an interesting target for cancer therapy (5-7).
Application References
Have you published research involving the use of our products? If so we'd love to hear about it. Please let us know!
Protocols
14977 :
Companion Products
---
For Research Use Only. Not For Use In Diagnostic Procedures.
Cell Signaling Technology is a trademark of Cell Signaling Technology, Inc.
XP is a registered trademark of Cell Signaling Technology, Inc.
Tween is a registered trademark of ICI Americas, Inc.
Cell Signaling Technology® is a trademark of Cell Signaling Technology, Inc.
用户评论 --- 共 0 条
该产品暂无评论!