Product Pathways - Neuroscience
HCN2 (D1C6I) Rabbit mAb #14957
PhosphoSitePlus ® protein, site, and accession data: HCN2
Applications
Dilution
Species-Reactivity
Sensitivity
MW (kDa)
Isotype
W
1:1000
Human,Mouse,Rat,
Endogenous
120
Rabbit IgG
IP
1:50
Species cross-reactivity is determined by western blot.
Applications Key: W=Western Blotting, IP=Immunoprecipitation,
Specificity / Sensitivity
HCN2 (D1C6I) Rabbit mAb recognizes endogenous levels of total HCN2 protein.
Source / Purification
Monoclonal antibody is produced by immunizing animals with a synthetic peptide corresponding to residues surrounding Ala751 of human HCN2 protein.
Western Blotting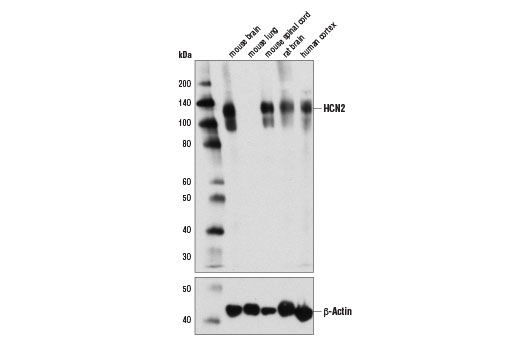 Western blot analysis of extracts from various tissues using HCN2 (D1C6I) Rabbit mAb (upper) and β-Actin (D6A8) Rabbit mAb #8457 (lower).
Background
The voltage-activated ion channel superfamily includes both cyclic nucleotide-gated (CNG) channels and hyperpolarization-activated cyclic nucleotide-modulated (HCN) channels (1,2). The direct binding of the cyclic nucleotides cAMP and cGMP promotes the gating of these channels, from the closed to an open state. Research studies demonstrate that HCN channels are involved in repetitive firing, resting membrane potential, and dendritic integration in neurons (1,3). HCN proteins are found in homotetramers and heterotetramers composed of HCN1 and HCN2 subunits (4). Tetramerization of HCN proteins results from cAMP binding to the channel, which triggers the release of the tonic inhibition exerted by the cytoplasmic cyclic nucleotide binding domain on the channel pore (5). HCN channels expressed in dorsal root ganglia neurons may play a role in acute inflammatory pain (6). Cardiac HCN channels ensure electrical rhythmicity in cardiomyocytes (7).
Application References
Have you published research involving the use of our products? If so we'd love to hear about it. Please let us know!
Protocols
Companion Products
---
For Research Use Only. Not For Use In Diagnostic Procedures.
Cell Signaling Technology is a trademark of Cell Signaling Technology, Inc.
XP is a registered trademark of Cell Signaling Technology, Inc.
Tween is a registered trademark of ICI Americas, Inc.
Cell Signaling Technology® is a trademark of Cell Signaling Technology, Inc.
用户评论 --- 共 0 条
该产品暂无评论!