Product Pathways - DNA Damage
p95/NBS1 (D6J5I) Rabbit mAb #14956
PhosphoSitePlus ® protein, site, and accession data: NBS1
Applications
Dilution
Species-Reactivity
Sensitivity
MW (kDa)
Isotype
W
1:1000
Human,Mouse,Rat,
Endogenous
95
Rabbit IgG
IP
1:200
IF-IC
1:100
Species cross-reactivity is determined by western blot.
Applications Key: W=Western Blotting, IP=Immunoprecipitation, IF-IC=Immunofluorescence (Immunocytochemistry),
Specificity / Sensitivity
p95/NBS1 (D6J5I) Rabbit mAb recognizes endogenous levels of total p95/NBS1 protein. This antibody also cross-reacts with an unidentified protein of 180 kDa in some cell lines.
Source / Purification
Monoclonal antibody is produced by immunizing animals with a synthetic peptide corresponding to residues surrounding Ala740 of human p95/NBS1 protein.
IF-IC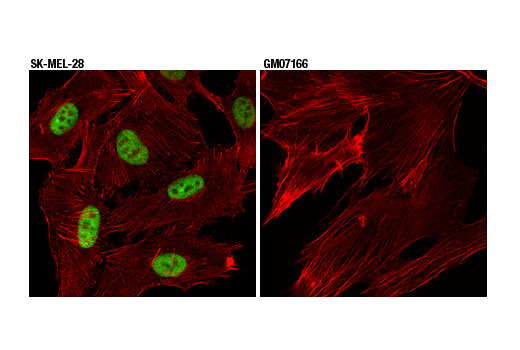 Confocal immunofluorescent analysis of SK-MEL-28 (left) and GM07166 (right) cells using p95/NBS1 (D6J5I) Rabbit mAb (green). Actin filaments were labeled with DyLight™ 554 Phalloidin #13054.
Western Blotting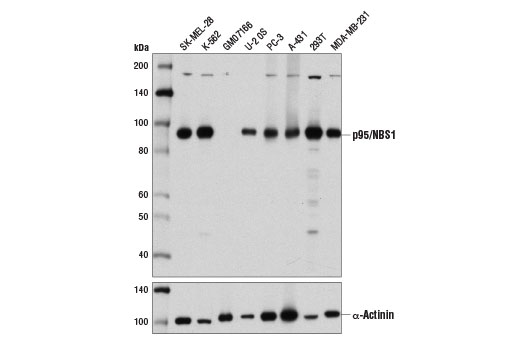 Western blot analysis of extracts from various cell lines using p95/NBS1 (D6J5I) Rabbit mAb (upper) and α-Actinin (D6F6) XP® Rabbit mAb #6487 (lower).
Background
Nijmegen breakage syndrome (NBS) is characterized by growth retardation, mental disability, immunodeficiency, defects in cell cycle checkpoints, an increased propensity for cancer, and sensitivity to ionizing radiation (1). Repair of radiation-induced DNA double-strand breaks is dependent on the multifunctional MRN complex containing Mre11, Rad50, and the NBS1 gene product p95/NBS1 (also called p95 or nibrin) (2). p95/NBS1 is a protein with a forkhead-associated domain and a BRCT repeat that regulate interaction with MDC1 and are essential for proper G2/M DNA-damage checkpoint function (3). NBS1 is critical for homologous recombination following DNA double strand breaks. This activity requires CDK-dependent association with CtIP and subsequent phosphorylation by ATM (4). ATM interacts with and phosphorylates p95/NBS1 at Ser278 and Ser343 after exposure to ionizing radiation (5,6).
Application References
Have you published research involving the use of our products? If so we'd love to hear about it. Please let us know!
Protocols
Companion Products
---
For Research Use Only. Not For Use In Diagnostic Procedures.
DyLight is a trademark of Thermo Fisher Scientific, Inc. and its subsidiaries.
Cell Signaling Technology is a trademark of Cell Signaling Technology, Inc.
XP is a registered trademark of Cell Signaling Technology, Inc.
Tween is a registered trademark of ICI Americas, Inc.
Cell Signaling Technology® is a trademark of Cell Signaling Technology, Inc.
用户评论 --- 共 0 条
该产品暂无评论!