Product Pathways - MAPK Signaling
Spry2 (D3G1A) Rabbit mAb #14954
PhosphoSitePlus ® protein, site, and accession data: SPRY2
Applications
Dilution
Species-Reactivity
Sensitivity
MW (kDa)
Isotype
W
1:1000
Human,Mouse,Rat,
Endogenous
35
Rabbit IgG
IP
1:100
Species cross-reactivity is determined by western blot.
Applications Key: W=Western Blotting, IP=Immunoprecipitation,
Specificity / Sensitivity
Spry2 (D3G1A) Rabbit mAb recognizes endogenous levels of total Spry2 protein.
Source / Purification
Monoclonal antibody is produced by immunizing animals with a synthetic peptide corresponding to residues surrounding Pro71 of human Spry2 protein.
Western Blotting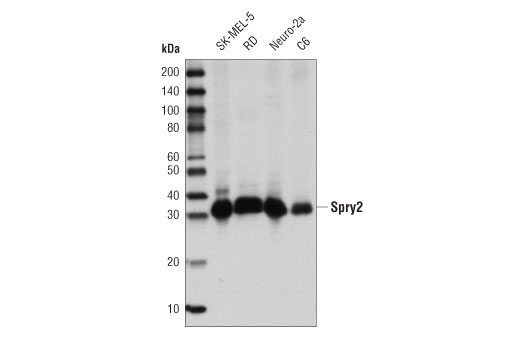 Western blot analysis of extracts from various cell lines using Spry2 (D3G1A) Rabbit mAb.
Background
The Sprouty (Spry) family of proteins are antagonists of receptor tyrosine kinase (RTK)-induced signaling (1, 2). The Spry proteins play crucial roles in regulating growth and development of living organisms. Since originally discovered in Drosophila, four human orthologs of Spry proteins (Spry1-4) have been identified. All human Spry proteins possess a conserved carboxyl-terminal cysteine-rich SPR domain, which harbors a signal for protein translocation from cytosol to membrane ruffles (3,4). The SPR domain also enables the Spry proteins to form homo- or hetero-dimers and to interact with other proteins including kinases and phosphatases. The SPR domain is essential for the inhibitory modulation of Spry proteins on RTK signaling (1,2).
Studies have shown that several cancers have reduced levels of Spry2 expression implicating Spry2 as a tumor suppressor (5-8). The regulation of Spry2 expression and activity appears to be a complex process involving casein kinase 1, Shp2 phosphatase, and Spry2-interacting partners (9-11). Phosphorylation of Tyr55 residue of Spry2 is required for the inhibitory function of Spry2 in FGF/MAPK signaling (12,13).
Application References
Have you published research involving the use of our products? If so we'd love to hear about it. Please let us know!
Protocols
Companion Products
---
For Research Use Only. Not For Use In Diagnostic Procedures.
Cell Signaling Technology is a trademark of Cell Signaling Technology, Inc.
XP is a registered trademark of Cell Signaling Technology, Inc.
Tween is a registered trademark of ICI Americas, Inc.
Cell Signaling Technology® is a trademark of Cell Signaling Technology, Inc.
用户评论 --- 共 0 条
该产品暂无评论!