Product Pathways - Chromatin Regulation / Epigenetics
MED26 (D4B1X) Rabbit mAb #14950
PhosphoSitePlus ® protein, site, and accession data: MED26
Applications
Dilution
Species-Reactivity
Sensitivity
MW (kDa)
Isotype
W
1:1000
Human,
Endogenous
70
Rabbit IgG
IP
1:100
ChIP
1:100
Species cross-reactivity is determined by western blot.
Applications Key: W=Western Blotting, IP=Immunoprecipitation, ChIP=Chromatin IP,
Specificity / Sensitivity
MED26 (D4B1X) Rabbit mAb recognizes endogenous levels of total MED26 protein.
Source / Purification
Monoclonal antibody is produced by immunizing animals with a synthetic peptide corresponding to residues surrounding Pro120 of human MED26 protein.
Western Blotting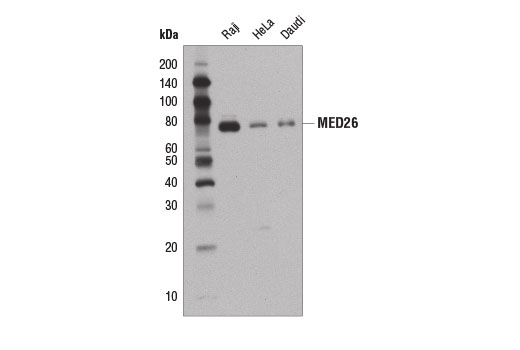 Western blot analysis of extracts from Raji, HeLa, and Daudi cells using MED26 (D4B1X) Rabbit mAb.
Chromatin IP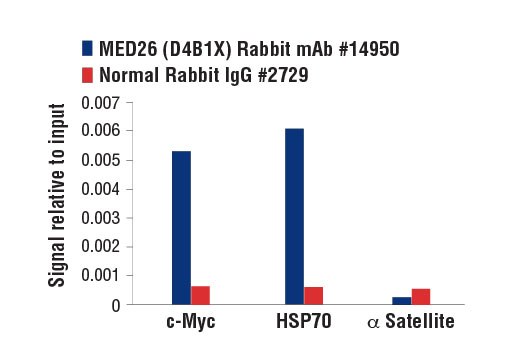 Chromatin immunoprecipitations were performed with cross-linked chromatin from 4 x 106 HeLa cells heat shocked for 1 hr and either 5 µl of MED26 (D4B1X) Rabbit mAb or 2 µl of Normal Rabbit IgG #2729 using SimpleChIP® Enzymatic Chromatin IP Kit (Magnetic Beads) #9003. The enriched DNA was quantified by real-time PCR using SimpleChIP® Human c-Myc Intron 1 Primers #14905, SimpleChIP® Human HSP70 Intron 1 Primers #14023, and SimpleChIP® Human α Satellite Repeat Primers #4486. The amount of immunoprecipitated DNA in each sample is represented as signal relative to the total amount of input chromatin, which is equivalent to one.
Background
The mediator complex consists of about 25-30 proteins and is thought to facilitate transcription activation by acting as a molecular bridge between the RNA polymerase II (RNAPII) machinery and transcription factors (1). Mediator is recruited to target genes by transcription factors and plays an essential role in the recruitment and stabilization of the RNAPII transcription complex at promoters, as well as the activation of transcription post RNAPII recruitment (1-5). The mediator complex also plays an important role in creating 'chromatin loops' that occur as a result of interactions between the transcription factor bound at distal enhancers and RNAPII bound at the proximal promoter, and works to sustain proper chromatin architecture during active transcription (6-8).
Mediator complex subunit 26 (MED26) plays a critical role in the transition of RNAPII from the initiation to elongation phase of transcription. The amino-terminal domain of MED26 is required for recruitment of the ELL- and pTEFb-containing complexes to target genes, which facilitates transcription elongation (9).
Application References
Have you published research involving the use of our products? If so we'd love to hear about it. Please let us know!
Protocols
Companion Products
---
For Research Use Only. Not For Use In Diagnostic Procedures.
Cell Signaling Technology is a trademark of Cell Signaling Technology, Inc.
XP is a registered trademark of Cell Signaling Technology, Inc.
SimpleChIP is a registered trademark of Cell Signaling Technology, Inc.
Tween is a registered trademark of ICI Americas, Inc.
Cell Signaling Technology® is a trademark of Cell Signaling Technology, Inc.
用户评论 --- 共 0 条
该产品暂无评论!