Product Pathways - PI3K / Akt Signaling
TBC1D7 (D8K1Y) Rabbit mAb #14949
PhosphoSitePlus ® protein, site, and accession data: TBC1D7
Applications
Dilution
Species-Reactivity
Sensitivity
MW (kDa)
Isotype
W
1:1000
Human,Mouse,Rat,
Endogenous
30
Rabbit IgG
IP
1:50
Species cross-reactivity is determined by western blot.
Applications Key: W=Western Blotting, IP=Immunoprecipitation,
Specificity / Sensitivity
TBC1D7 (D8K1Y) Rabbit mAb recognizes endogenous levels of total TBC1D7 protein.
Source / Purification
Monoclonal antibody is produced by immunizing animals with a synthetic peptide corresponding to residues near the amino terminus of human TBC1D7 protein.
Western Blotting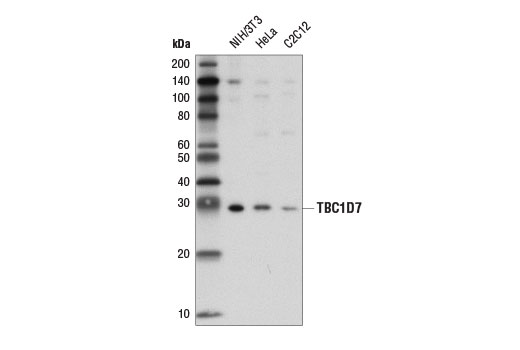 Western blot analysis of extracts from NIH/3T3, HeLa, and C2C12 cells using TBC1D7 (D8K1Y) Rabbit mAb.
Background
TBC1 domain family member 7 (TBC1D7, TBC7) belongs to a family of TBC (Tre-2/Bub2/Cdc16) containing proteins that function as GTPase-activating proteins (GAPs) (1,2). TBC1D7 was initially identified as a novel binding protein within the TSC1-TSC2 complex, where it was thought to associate with TSC1 (3,4). Additional research indicates that TBC1D7 is a third subunit of the TSC1-TSC2 complex that possesses Rheb-GAP activity and signals upstream of mTORC1 (5). Knockdown of TBC1D7 limits the association between TSC1 and TSC2, resulting in reduced Rheb-GAP activity and increased mTORC1 signaling (5). Mutations in the corresponding TBC1D7 gene result in increased mTORC1 signaling, delayed autophagy, and are associated with intellectual disability (ID) and macrocrania (6,7).
Application References
Have you published research involving the use of our products? If so we'd love to hear about it. Please let us know!
Protocols
Companion Products
---
For Research Use Only. Not For Use In Diagnostic Procedures.
Cell Signaling Technology is a trademark of Cell Signaling Technology, Inc.
Tween is a registered trademark of ICI Americas, Inc.
Cell Signaling Technology® is a trademark of Cell Signaling Technology, Inc.
用户评论 --- 共 0 条
该产品暂无评论!