Product Pathways - Chromatin Regulation / Epigenetics
BRD7 (D9K2T) Rabbit mAb (ChIP Formulated) #14910
Bromodomain containing protein
| Applications | Dilution | Species-Reactivity | Sensitivity | MW (kDa) | Isotype |
| --- | --- | --- | --- | --- | --- |
| ChIP | 1:50 | Human, | Endogenous | | Rabbit IgG |
Species cross-reactivity is determined by western blot.
Applications Key: ChIP=Chromatin IP,
Specificity / Sensitivity
BRD7 (D9K2T) Rabbit mAb (ChIP Formulated) recognizes endogenous levels of total BRD7 protein.
Source / Purification
Monoclonal antibody is produced by immunizing animals with recombinant protein specific to the carboxy terminus of human BRD7 protein.
Chromatin IP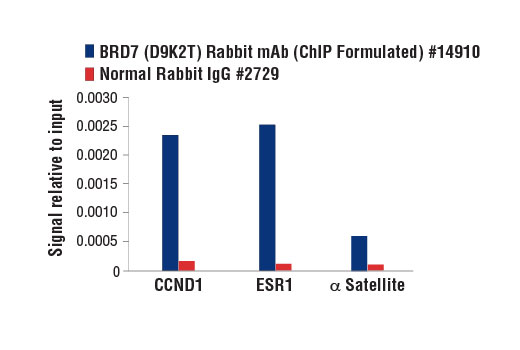 Chromatin immunoprecipitations were performed with cross-linked chromatin from 4 x 106 MCF7 cells grown in phenol red free medium and 5% charcoal stripped FBS for 4 days, then treated with β-estradiol (10 nM, 45 min) and either 10 μl of BRD7 (D9K2T) Rabbit mAb (ChIP Formulated) or 2 μl of Normal Rabbit IgG #2729 using SimpleChIP® Enzymatic Chromatin IP Kit (Magnetic Beads) #9003. The enriched DNA was quantified by real-time PCR using SimpleChIP® Human CCND1 Promoter Primers #12531, SimpleChIP® Human ESR1 Promoter Primers #9673, and SimpleChIP® Human α Satellite Repeat Primers #4486. The amount of immunoprecipitated DNA in each sample is represented as signal relative to the total amount of input chromatin, which is equivalent to one.
Background
Bromodomain-containing protein 7 (BRD7, BP75, CELTIX-1) is a conserved bromodomain-containing protein that was first identified in a screen for proteins that interact with the PDZ domain of PSD95 (1). Subsequent studies identified BRD7 as a major component of SWI/SNF chromatin remodeling complexes, where it was shown to interact directly with acetylated histones to regulate gene transcription (2,3). BRD7 also interacts with p53, and was shown to participate directly in p53-dependent transcriptional regulation (4). Loss-of-function BRD7 mutations were identified in a subset of wild-type p53 breast cancer tumor samples, implicating BRD7 as a putative tumor-suppressor of potential clinical significance (5). BRD7 also associates with the BRCA1 protein, an interaction that facilitates recruitment of BRCA1 to the ERα gene promoter (6).
Application References
Have you published research involving the use of our products? If so we'd love to hear about it. Please let us know!
Protocols
14910 :
Companion Products
---
For Research Use Only. Not For Use In Diagnostic Procedures.
Cell Signaling Technology is a trademark of Cell Signaling Technology, Inc.
SimpleChIP is a registered trademark of Cell Signaling Technology, Inc.
Cell Signaling Technology® is a trademark of Cell Signaling Technology, Inc.
用户评论 --- 共 0 条
该产品暂无评论!