Product Pathways - Chromatin Regulation / Epigenetics
COBRA1 (D6K9A) Rabbit mAb #14894
PhosphoSitePlus ® protein, site, and accession data: COBRA1
Applications
Dilution
Species-Reactivity
Sensitivity
MW (kDa)
Isotype
W
1:1000
Human,Mouse,Rat,Monkey,
Endogenous
65
Rabbit IgG
IP
1:50
ChIP
1:50
Species cross-reactivity is determined by western blot.
Applications Key: W=Western Blotting, IP=Immunoprecipitation, ChIP=Chromatin IP,
Homology
Species predicted to react based on 100% sequence homology: Hamster, Bovine,
Specificity / Sensitivity
COBRA1 (D6K9A) Rabbit mAb recognizes endogenous levels of total COBRA1 protein.
Source / Purification
Monoclonal antibody is produced by immunizing animals with a synthetic peptide corresponding to residues near the carboxy terminus of human COBRA1 protein.
Western Blotting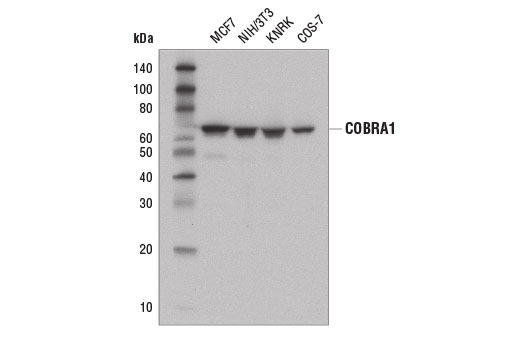 Western blot analysis of extracts from various cell lines using COBRA1 (D6K9A) Rabbit mAb.
IP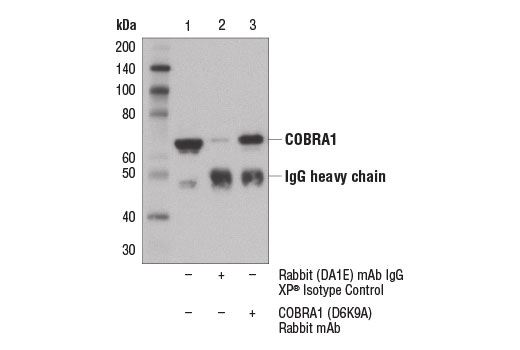 Immunoprecipitation of COBRA1 from MCF7 cell extracts using Rabbit (DA1E) mAb IgG XP® Isotype Control #3900 (lane 2) or COBRA1 (D6K9A) Rabbit mAb (lane 3). Lane 1 is 10% input. Western blot analysis was performed using COBRA1 (D6K9A) Rabbit mAb.
Chromatin IP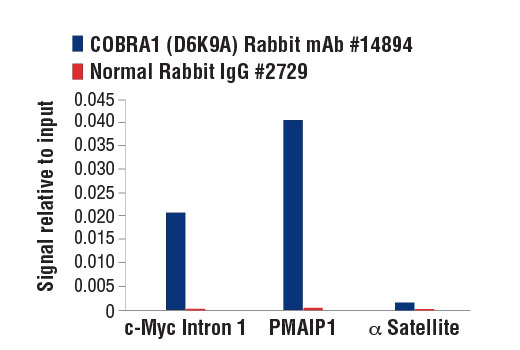 Chromatin immunoprecipitations were performed with cross-linked chromatin from 4 x 106 MCF7 cells grown in phenol red free medium and 5% charcoal stripped FBS for 4 d then treated with β-estradiol (10 nM) for 45 min and either 10 μl of COBRA1 (D6K9A) Rabbit mAb or 2 μl of Normal Rabbit IgG #2729 using SimpleChIP® Enzymatic Chromatin IP Kit (Magnetic Beads) #9003. The enriched DNA was quantified by real-time PCR using SimpleChIP® Human c-Myc Intron 1 Primers #14905, human PMAIP1 promoter primers, and SimpleChIP® Human α Satellite Repeat Primers #4486. The amount of immunoprecipitated DNA in each sample is represented as signal relative to the total amount of input chromatin, which is equivalent to one.
Background
Negative Elongation Factor (NELF) consists of four subunits: WHSC2 (NELF-A), COBRA-1 (NELF-B), TH1L (NELF-C/D), and NELF-E (1). NELF, together with DRB-sensitivity inducing factor (DSIF), inhibits RNA Polymerase II (RNAPII) elongation resulting in RNAPII promoter proximal pausing, where it waits additional signaling to resume transcription (2,3). The release of RNAPII from promoter proximal pausing is a critical regulatory point during transcription and is signaled by positive transcription elongation factor (p-TEF-b) phosphorylation of both NELF and the carboxy-terminal domain (CTD) within the largest subunit of RNAPII (3,4). WHSC2 is thought to connect the NELF complex to RNAPII machinery, while NELF-E contains an RNA binding motif that is necessary for NELF function (1,5,6). TH1L, together with COBRA-1, are integral subunits that bring WHSC2 and NELF-E together in the NELF complex (1).
Cofactor of BRCA1 (COBRA1, NELF-B) was first identified as a factor that interacts with the BRCT domain of the tumor suppressor protein BRCA1 (7). COBRA1 is a modulator of ligand dependent and independent expression of estrogen receptor-α target genes (8,9). COBRA1 expression is reduced in metastatic and recurrent breast cancer, suggesting that low levels of COBRA1 in breast cancers may serve as an indicator for poor prognosis (10).
Application References
Have you published research involving the use of our products? If so we'd love to hear about it. Please let us know!
Protocols
Companion Products
---
For Research Use Only. Not For Use In Diagnostic Procedures.
Cell Signaling Technology is a trademark of Cell Signaling Technology, Inc.
XP is a registered trademark of Cell Signaling Technology, Inc.
SimpleChIP is a registered trademark of Cell Signaling Technology, Inc.
Tween is a registered trademark of ICI Americas, Inc.
Cell Signaling Technology® is a trademark of Cell Signaling Technology, Inc.
用户评论 --- 共 0 条
该产品暂无评论!