Product Pathways - Vesicle Trafficking
VAMP7 (D4D5J) Rabbit mAb #14811
PhosphoSitePlus ® protein, site, and accession data: VAMP7
| Applications | Dilution | Species-Reactivity | Sensitivity | MW (kDa) | Isotype |
| --- | --- | --- | --- | --- | --- |
| W | 1:1000 | Human,Mouse,Rat, | Endogenous | 25 | Rabbit IgG |
Species cross-reactivity is determined by western blot.
Applications Key: W=Western Blotting,
Specificity / Sensitivity
VAMP7 (D4D5J) Rabbit mAb recognizes endogenous levels of total VAMP7 protein.
Source / Purification
Monoclonal antibody is produced by immunizing animals with a synthetic peptide corresponding to residues surrounding Ala94 of human VAMP7 protein.
Western Blotting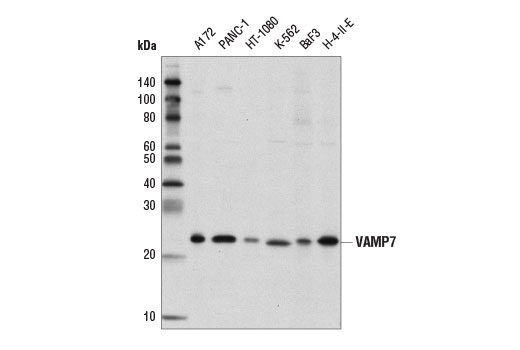 Western blot analysis of extracts from various cell lines using VAMP7 (D4D5J) Rabbit mAb.
Background
Proteins in the soluble N-ethylmaleimide-sensitive factor attachment protein receptor (SNARE) complex are integral membrane proteins involved in vesicle transport and membrane fusion that pair vesicular SNAREs (v-SNAREs) with cognate target SNARE (t-SNARE) proteins (reviewed in 1,2). Vesicle-associated membrane protein 7 (VAMP7), or tetanus neurotoxin-insensitive VAMP (TI-VAMP), is a widely expressed v-SNARE involved in exocytosis of granules and synaptic vesicles in various cell types, membrane remodeling, neurite outgrowth, lysosomal secretion, and autophagosome maturation (3). Activity of VAMP7 can be regulated by c-Src-mediated tyrosine phosphorylation, which activates VAMP7-mediated exocytosis (4). VAMP7 activity can also be regulated through interaction with the guanine nucleotide exchange factor Varp (5,6). Several research studies indicate that VAMP7 plays an important role in neurite outgrowth as well as potential neurological activities, including anxiety (7-9). VAMP7 also appears to have a key role in T-cell activation by facilitating the recruitment of vesicular Lat to the immunological synapse (10). The VAMP7 protein interacts with ATG16L, a component of the ATG5-ATG12 complex, and regulates autophagosome maturation through homotypic fusion of ATG16L1 vesicles (11).
Application References
Have you published research involving the use of our products? If so we'd love to hear about it. Please let us know!
Protocols
14811 :
Companion Products
---
For Research Use Only. Not For Use In Diagnostic Procedures.
Cell Signaling Technology is a trademark of Cell Signaling Technology, Inc.
Tween is a registered trademark of ICI Americas, Inc.
Cell Signaling Technology® is a trademark of Cell Signaling Technology, Inc.
用户评论 --- 共 0 条
该产品暂无评论!