Product Pathways - Protein Stability
NUB1 Antibody #14810
NEDDylation NUB-1 NUB-1L NUB1 NUB1L NY-REN-18 NYREN-18 NYREN18
PhosphoSitePlus ® protein, site, and accession data: NUB1L
| Applications | Dilution | Species-Reactivity | Sensitivity | MW (kDa) | Isotype |
| --- | --- | --- | --- | --- | --- |
| W | 1:1000 | Human,Mouse,Rat,Monkey, | Endogenous | 78 | Rabbit |
Species cross-reactivity is determined by western blot.
Applications Key: W=Western Blotting,
Specificity / Sensitivity
NUB1 Antibody recognizes endogenous levels of total NUB1 protein. Based upon sequence alignment, this antibody is predicted to detect both NUB1 and NUB1L.
Source / Purification
Polyclonal antibodies are produced by immunizing animals with a synthetic peptide corresponding to residues near the carboxy terminus of human NUB1 protein. Antibodies are purified by protein A and peptide affinity chromatography.
Western Blotting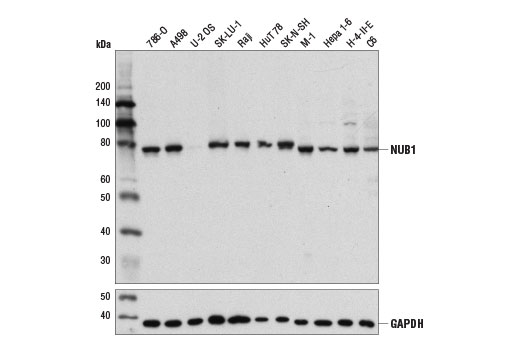 Western blot analysis of extracts from various cell lines using NUB1 Antibody (upper) and GAPDH (D16H11) XP® Rabbit mAb #5174 (lower). As expected, U-2 OS cells express low levels of endogenous NUB1 protein (3).
Western Blotting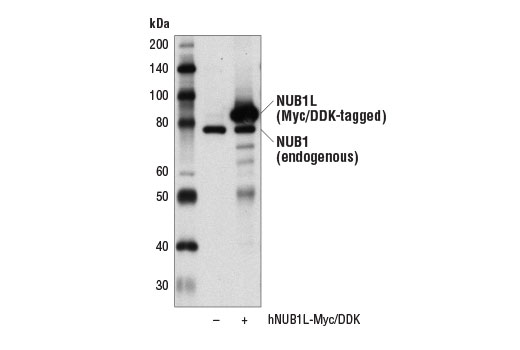 Western blot analysis of extracts from 293T cells, mock transfected (-) or transfected with a construct expressing Myc/DDK-tagged full-length human NUB1L protein (hNUB1L-Myc/DDK; +), using NUB1 Antibody.
Background
Both the NEDD8 ultimate buster 1 (NUB1) and the related NUB1L isoform are interferon-inducible adaptor proteins that negatively regulate ubiquitin-like protein NEDD8 (1,2). NUB1 protein contains an amino terminal ubiquitin-like (UBL) domain and multiple carboxy terminal ubiquitin-associated (UBA) domains. The NUB1L isoform is generated by alternative splicing and contains an extra UBA domain relative to NUB1 (2). Research studies indicate that NUB1 and NUB1L non-covalently bind NEDD8 and facilitate delivery of both NEDD8 monomers and NEDD8 conjugates to the proteasome for degradation (2-5). In addition, NUB1L binds and enhances the proteasomal degradation of the FAT10 ubiquitin-like protein (6). Additional research shows that NUB1 negatively regulates cell proliferation, likely due to inhibition of NEDD8 conjugation to SCF ubiquitin ligases, which leads to inhibition of p27 and cyclin E ubiquitination (3,7). NUB1 has been identified as a putative therapeutic target in Huntington's disease as NUB1 promotes a decrease in levels of mutant HTT protein (8).
Application References
Have you published research involving the use of our products? If so we'd love to hear about it. Please let us know!
Protocols
14810 :
Companion Products
---
For Research Use Only. Not For Use In Diagnostic Procedures.
Cell Signaling Technology is a trademark of Cell Signaling Technology, Inc.
XP is a registered trademark of Cell Signaling Technology, Inc.
Tween is a registered trademark of ICI Americas, Inc.
Cell Signaling Technology® is a trademark of Cell Signaling Technology, Inc.
用户评论 --- 共 0 条
该产品暂无评论!