Product Pathways - Protein Stability
APC10 Antibody #14807
Anaphase Promotinfg Complex APC-10 APC/C APC10 DOC-1 DOC1 E3 Ubiquitin Ligases
PhosphoSitePlus ® protein, site, and accession data: APC10
| Applications | Dilution | Species-Reactivity | Sensitivity | MW (kDa) | Isotype |
| --- | --- | --- | --- | --- | --- |
| W | 1:1000 | Human,Mouse,Rat,Monkey, | Endogenous | 24 | Rabbit |
Species cross-reactivity is determined by western blot.
Applications Key: W=Western Blotting,
Homology
Species predicted to react based on 100% sequence homology: Chicken, Bovine, Pig,
Specificity / Sensitivity
APC10 Antibody recognizes endogenous levels of total APC10 protein.
Source / Purification
Polyclonal antibodies are produced by immunizing animals with a synthetic peptide corresponding to residues near the amino terminus of human APC10 protein. Antibodies are purified by protein A and peptide affinity chromatography.
Western Blotting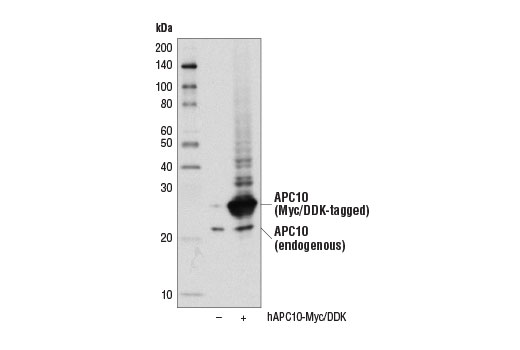 Western blot analysis of extracts from 293T cells, mock transfected (-) or transfected with a construct expressing Myc/DDK-tagged full-length human APC10 protein (hAPC10-Myc/DDK; +), using APC10 Antibody.
Background
Cell proliferation in all eukaryotic cells depends strictly upon the E3 ubiquitin ligase activity of the anaphase promoting complex/cyclosome (APC/C), whose main function is to trigger the transition of the cell cycle from metaphase to anaphase. APC/C performs its various functions by promoting the assembly of polyubiquitin chains on substrate proteins, which targets these proteins for degradation by the 26S proteasome (1,2). In humans, twelve different APC/C subunits have been identified. Like all E3 enzymes, APC/C utilizes ubiquitin residues that have been activated by E1 enzymes and then transferred to E2 enzymes. Indeed, APC/C has been shown to interact with UBE2S and UBE2C E2 enzymes, in part, via the RING-finger domain-containing subunit, APC11 (3-5). APC/C activity is also strictly dependent upon its association with multiple cofactors. For example, the related proteins, cell division control protein 20 homolog (CDC20) and Cdh1/FZR1, participate in the recognition of APC/C substrates by interacting with specific recognition elements in these substrates (6), called D-boxes (7) and KEN-boxes (8).
Anaphase-promoting complex subunit 10 (APC10, DOC1) is a highly conserved, core component of the anaphase promoting complex/cyclosome (9,10). Research studies indicate that APC10 participates in substrate recognition by the APC/C (3,11,12).
Application References
Have you published research involving the use of our products? If so we'd love to hear about it. Please let us know!
Protocols
14807 :
Companion Products
---
For Research Use Only. Not For Use In Diagnostic Procedures.
Cell Signaling Technology is a trademark of Cell Signaling Technology, Inc.
XP is a registered trademark of Cell Signaling Technology, Inc.
Tween is a registered trademark of ICI Americas, Inc.
Cell Signaling Technology® is a trademark of Cell Signaling Technology, Inc.
用户评论 --- 共 0 条
该产品暂无评论!