Product Pathways - Adhesion
CEACAM1 (D1P4T) Rabbit mAb #14771
PhosphoSitePlus ® protein, site, and accession data: CEACAM1
Applications
Dilution
Species-Reactivity
Sensitivity
MW (kDa)
Isotype
W
1:1000
Human,Mouse,Rat,
Endogenous
160
Rabbit IgG
IP
1:200
Species cross-reactivity is determined by western blot.
Applications Key: W=Western Blotting, IP=Immunoprecipitation,
Specificity / Sensitivity
CEACAM1 (D1P4T) Rabbit mAb recognizes endogenous levels of total CEACAM1 protein.
Source / Purification
Monoclonal antibody is produced by immunizing animals with a synthetic peptide corresponding to residues surrounding Ala460 of human CEACAM1 protein.
Western Blotting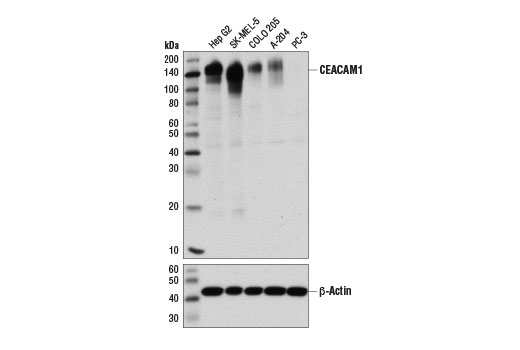 Western blot analysis of extracts from various cell lines using CEACAM1 (D1P4T) Rabbit mAb (upper) and β-Actin (D6A8) Rabbit mAb #8457 (lower).
IP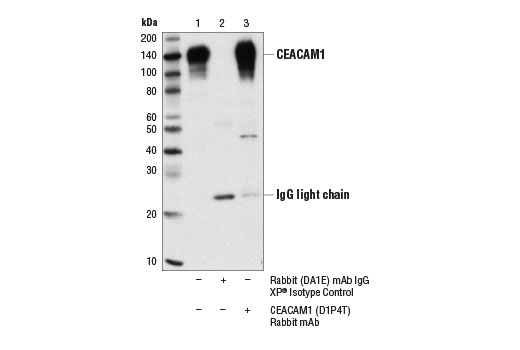 Immunoprecipitation of CEACAM1 from SK-MEL-5 cell extracts using Rabbit (DA1E) mAb IgG XP® Isotype Control #3900 (lane 2) or CEACAM1 (D1P4T) Rabbit mAb (lane 3). Lane 1 is 10% input. Western blot analysis was performed using CEACAM1 (D1P4T) Rabbit mAb. Mouse Anti-rabbit IgG (Conformation Specific) (L27A9) mAb #3678 was used as a secondary antibody.
Background
CEACAM1 (also known as C-CAM and CD66a) is a member of CEA-related cell-adhesion molecule (CEACAM) subfamily of the carcinoembryonic antigen (CEA) family (1). CEACAM1 is expressed by certain epithelial, endothelial, lymphoid, and myeloid cells. Human CEACAM1 has many different splice variants; the abundance of CEACAM1 and the relative ratio of the different isoforms varies markedly among cell types and may be regulated in a context-dependent fashion. The isoforms with long (L) and short (S) cytoplasmic tails have different signaling properties. Notably, L isoforms contain a functional ITIM (immunoreceptor tyrosine-based inhibitory motif) and several serine and threonine residues that could serve as potential phosphorylation targets. The extracellular domain of CEACAM1 is heavily glycosylated, making its apparent molecular weight during electrophoresis much larger than its predicted size (57.6 kDa) (2). CEACAM1 mediates intercellular adhesion through homo- and heterophilic interaction with other members of the CEACAM family. Studies indicate that CEACAM1 plays important roles in angiogenesis, neovascularization, insulin signaling, T cell signaling, and tumorigenesis (3-8). In addition, CEACAM1 can function as a receptor for several microbial pathogens (9,10).
Application References
Have you published research involving the use of our products? If so we'd love to hear about it. Please let us know!
Protocols
Companion Products
---
For Research Use Only. Not For Use In Diagnostic Procedures.
Cell Signaling Technology is a trademark of Cell Signaling Technology, Inc.
XP is a registered trademark of Cell Signaling Technology, Inc.
Tween is a registered trademark of ICI Americas, Inc.
Cell Signaling Technology® is a trademark of Cell Signaling Technology, Inc.
用户评论 --- 共 0 条
该产品暂无评论!