Product Pathways - Lymphocyte Signaling
Phospho-SLP-76 (Tyr145) Antibody #14770
PhosphoSitePlus ® protein, site, and accession data: SLP76
Applications
Dilution
Species-Reactivity
Sensitivity
MW (kDa)
Isotype
W
1:1000
Human,Mouse,
Endogenous
76
Rabbit
IP
1:100
Species cross-reactivity is determined by western blot.
Applications Key: W=Western Blotting, IP=Immunoprecipitation,
Homology
Species predicted to react based on 100% sequence homology: Bovine,
Specificity / Sensitivity
Phospho-SLP-76 (Tyr145) Antibody recognizes endogenous levels of SLP-76 protein only when phosphorylated at Tyr145.
Source / Purification
Polyclonal antibodies are produced by immunizing animals with a synthetic phosphopeptide corresponding to residues surrounding Tyr145 of human SLP-76 protein. Antibodies are purified by protein A and peptide affinity chromatography.
Western Blotting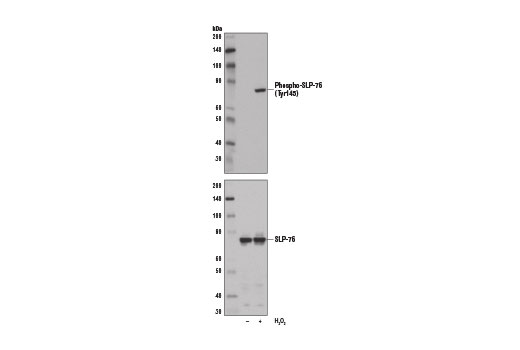 Western blot analysis of extracts from Jurkat cells, untreated (-) or H2O2-treated (11 mM, 1 min; +), using Phospho-SLP-76 (Tyr145) Antibody (upper) and SLP-76 Antibody #4958 (lower).
Background
SH2 domain-containing leukocyte protein of 76 kDa (SLP-76) is a hematopoietic adapter protein that is important in multiple biochemical signaling pathways and necessary for T cell development and activation (1). ZAP-70 phosphorylates SLP-76 and LAT as a result of TCR ligation. SLP-76 has amino-terminal tyrosine residues followed by a proline rich domain and a carboxy-terminal SH2 domain. Phosphorylation of Tyr113 and Tyr128 result in recruitment of the GEF Vav and the adapter protein Nck (2). TCR ligation also leads to phosphorylation of Tyr145, which mediates an association between SLP-76 and Itk, which is accomplished in part via the proline rich domain of SLP-76 and the SH3 domain of ITK (3). Furthermore, the proline rich domain of SLP-76 binds to the SH3 domains of Grb2-like adapter Gads (3-4). In resting cells, SLP-76 is predominantly in the cytosol. Upon TCR ligation, SLP-76 translocates to the plasma membrane and promotes the assembly of a multi-protein signaling complex that includes Vav, Nck, Itk and PLCg1 (1). The expression of SLP-76 is tightly regulated: the protein is detected at very early stages of thymocyte development, increases as thymocyte maturation progresses, and is reduced as cells mature to CD4+ CD8+ double-positive thymocytes (5).
Application References
Have you published research involving the use of our products? If so we'd love to hear about it. Please let us know!
Protocols
Companion Products
---
For Research Use Only. Not For Use In Diagnostic Procedures.
Cell Signaling Technology is a trademark of Cell Signaling Technology, Inc.
Tween is a registered trademark of ICI Americas, Inc.
Cell Signaling Technology® is a trademark of Cell Signaling Technology, Inc.
用户评论 --- 共 0 条
该产品暂无评论!