Product Pathways - Innate Immunity
Phospho-IRF-7 (Ser437/438) Antibody (Mouse Specific) #14767
PhosphoSitePlus ® protein, site, and accession data: IRF7
| Applications | Dilution | Species-Reactivity | Sensitivity | MW (kDa) | Isotype |
| --- | --- | --- | --- | --- | --- |
| W | 1:1000 | Mouse, | Endogenous | 55 | Rabbit |
Species cross-reactivity is determined by western blot.
Applications Key: W=Western Blotting,
Specificity / Sensitivity
Phospho-IRF-7 (Ser437/438) Antibody (Mouse Specific) recognizes endogenous levels of mouse IRF-7 protein when dually phosphorylated at Ser437 and Ser438. This antibody can also recognize single phosphorylation at these sites, but has a preference for Ser438.
Source / Purification
Polyclonal antibodies are produced by immunizing animals with a synthetic phosphopeptide corresponding to residues surrounding Ser437 and Ser438 of mouse IRF-7 protein. Antibodies are purified by protein A and peptide affinity chromatography.
Western Blotting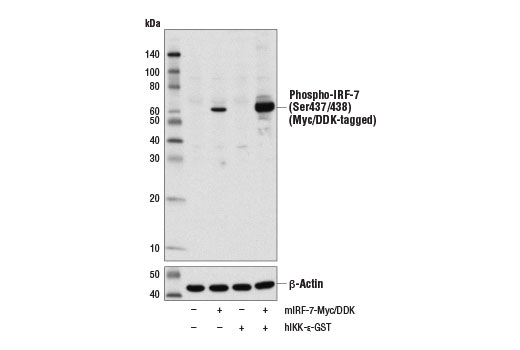 Western blot analysis of extracts from 293T cells, mock transfected (-) or transfected with constructs expressing full-length Myc/DDK-tagged mouse IRF-7 protein (mIRF-7-Myc/DDK; +) or GST-tagged human IKK-ε protein (hIKK-ε-GST; +), using Phospho-IRF-7 (Ser437/438) Antibody (Mouse Specific) (upper) and β-Actin (D6A8) Rabbit mAb #8457 (lower).
Background
Interferon regulatory factors (IRFs) comprise a family of transcription factors that function within the Jak/Stat pathway to regulate interferon (IFN) and IFN-inducible gene expression in response to viral infection (1). IRFs play an important role in pathogen defense, autoimmunity, lymphocyte development, cell growth, and susceptibility to transformation. The IRF family includes nine members: IRF-1, IRF-2, ISGF3γ/p48, IRF-3, IRF-4 (Pip/LSIRF/ICSAT), IRF-5, IRF-6, IRF-7, and IRF-8/ICSBP. All IRF proteins share homology in their amino-terminal DNA-binding domains. IRF family members regulate transcription through interactions with proteins that share similar DNA-binding motifs, such as IFN-stimulated response elements (ISRE), IFN consensus sequences (ICS), and IFN regulatory elements (IRF-E) (2).
IRF-7, which is functionally similar to IRF-3, is preferentially expressed in lymphoid cells and induced by virus, LPS, and IFN-α (3-5). IRF-7 plays an essential role in the induction of type I interferon in response to viral infection (6-8). Like IRF-3, IRF-7 is regulated at multiple serine phosphorylation sites near its carboxyl terminus, which are required for nuclear translocation, DNA binding, and transcriptional activity (9-11).
Application References
Have you published research involving the use of our products? If so we'd love to hear about it. Please let us know!
Protocols
14767 :
---
For Research Use Only. Not For Use In Diagnostic Procedures.
Cell Signaling Technology is a trademark of Cell Signaling Technology, Inc.
Tween is a registered trademark of ICI Americas, Inc.
Cell Signaling Technology® is a trademark of Cell Signaling Technology, Inc.
用户评论 --- 共 0 条
该产品暂无评论!