Product Pathways - Neuroscience
Kv7.2 (D9L5S) Rabbit mAb #14752
PhosphoSitePlus ® protein, site, and accession data: KV7.2
Applications
Dilution
Species-Reactivity
Sensitivity
MW (kDa)
Isotype
W
1:1000
Human,Mouse,Rat,
Endogenous
95
Rabbit IgG
IP
1:50
Species cross-reactivity is determined by western blot.
Applications Key: W=Western Blotting, IP=Immunoprecipitation,
Specificity / Sensitivity
Kv7.2 (D9L5S) Rabbit mAb recognizes endogenous levels of total Kv7.2 protein. This antibody does not cross-react with Kv7.3 protein.
Source / Purification
Monoclonal antibody is produced by immunizing animals with a synthetic peptide corresponding to residues near the amino terminus of human Kv7.2 protein.
Western Blotting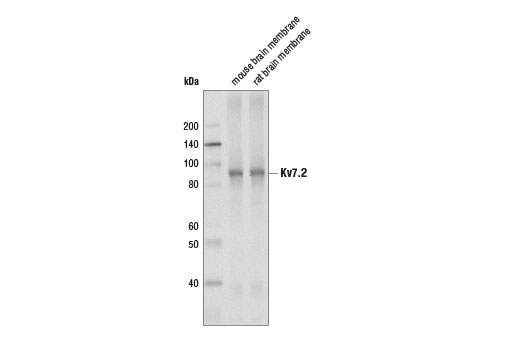 Western blot analysis of extracts from mouse and rat brain membrane using Kv7.2 (D9L5S) Rabbit mAb.
Background
The voltage gated potassium channel Kv7.2 (KCNQ2) associates with its family member Kv7.3 (KCNQ3) to form an M-channel that is involved in synaptic input response and sub-threshold excitability of neurons (1). This heteromeric channel generates the M-current, a slowly activating and deactivating potassium conductance that determines the neuronal excitability (2,3). Expression of these two M-channel proteins is mainly seen within the central nervous system, with both Kv7.2 and Kv7.3 expressed post-synaptically in the human cortex and hippocampus (4). The calcium-binding protein calmodulin binds two separate sites in Kv7.2 to influence exit of the channel protein from the endoplasmic reticulum and translocation to the plasma membrane (5). Mutations in the corresponding KCNQ2 gene cause benign familial neonatal seizures-1 (BFNS1), an autosomal dominant form of epilepsy characterized by seizure clusters closely following birth (6,7).
Application References
Have you published research involving the use of our products? If so we'd love to hear about it. Please let us know!
Protocols
Companion Products
---
For Research Use Only. Not For Use In Diagnostic Procedures.
Cell Signaling Technology is a trademark of Cell Signaling Technology, Inc.
XP is a registered trademark of Cell Signaling Technology, Inc.
Tween is a registered trademark of ICI Americas, Inc.
Cell Signaling Technology® is a trademark of Cell Signaling Technology, Inc.
用户评论 --- 共 0 条
该产品暂无评论!