Product Pathways - Tyrosine Kinase / Adaptors
Ret (D3D8R) Rabbit mAb #14698
PhosphoSitePlus ® protein, site, and accession data: RET
Applications
Dilution
Species-Reactivity
Sensitivity
MW (kDa)
Isotype
W
1:1000
Human,Mouse,
Endogenous
150, 175
Rabbit IgG
IP
1:50
F
1:800
IF-IC
1:400
Species cross-reactivity is determined by western blot.
Applications Key: W=Western Blotting, IP=Immunoprecipitation, F=Flow Cytometry, IF-IC=Immunofluorescence (Immunocytochemistry),
Specificity / Sensitivity
Ret (D3D8R) Rabbit mAb recognizes endogenous levels of total Ret protein.
Source / Purification
Monoclonal antibody is produced by immunizing animals with a synthetic peptide corresponding to residues surrounding Asp1000 of human Ret protein.
IF-IC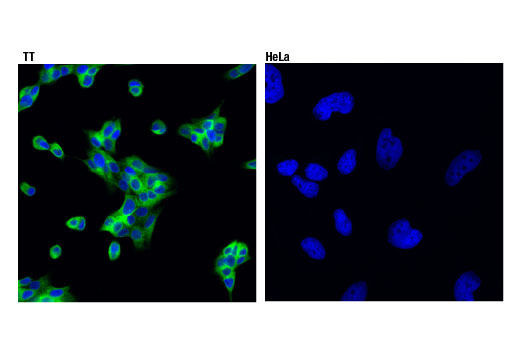 Confocal immunofluorescent analysis of TT (positive, left) and HeLa (negative, right) cells using Ret (D3D8R) Rabbit mAb (green). Blue pseudocolor = DRAQ5® #4084 (fluorescent DNA dye).
Flow Cytometry
Flow cytometric analysis of TT cells (green) and HeLa cells (blue) using Ret (D3D8R) Rabbit mAb. Anti-rabbit IgG (H+L), F(ab')2 Fragment (Alexa Fluor® 488 Conjugate) #4412 was used as a secondary antibody.
Background
The Ret proto-oncogene (c-Ret) is a receptor tyrosine kinase that functions as a multicomponent receptor complex in conjunction with other membrane-bound, ligand-binding GDNF family receptors (1). Ligands that bind the Ret receptor include the glial cell line-derived neurotrophic factor (GDNF) and its congeners neurturin, persephin, and artemin (2-4). Research studies have shown that alterations in the corresponding RET gene are associated with diseases including papillary thyroid carcinoma, multiple endocrine neoplasia (type 2A and 2B), familial medullary thyroid carcinoma, and a congenital developmental disorder known as Hirschsprung's disease (1,3). The Tyr905 residue located in the Ret kinase domain plays a crucial role in Ret catalytic and biological activity. Substitution of Phe for Tyr at position 905 dramatically inhibits Ret autophosphorylation activity (5).
Application References
Have you published research involving the use of our products? If so we'd love to hear about it. Please let us know!
Protocols
Companion Products
---
For Research Use Only. Not For Use In Diagnostic Procedures.
DRAQ5 is a registered trademark of Biostatus Limited.
Cell Signaling Technology is a trademark of Cell Signaling Technology, Inc.
Alexa Fluor is a registered trademark of Life Technologies Corporation.
Tween is a registered trademark of ICI Americas, Inc.
Cell Signaling Technology® is a trademark of Cell Signaling Technology, Inc.
用户评论 --- 共 0 条
该产品暂无评论!