Product Pathways - Neuroscience
Delta FosB (D3S8R) Rabbit mAb #14695
PhosphoSitePlus ® protein, site, and accession data: FOSB
Applications
Dilution
Species-Reactivity
Sensitivity
MW (kDa)
Isotype
W
1:1000
Human,Mouse,Rat,Monkey,
Endogenous
37
Rabbit IgG
IP
1:50
Species cross-reactivity is determined by western blot.
Applications Key: W=Western Blotting, IP=Immunoprecipitation,
Specificity / Sensitivity
Delta FosB (D3S8R) Rabbit mAb recognizes endogenous levels of total delta FosB protein. This antibody also cross-reacts with an unidentified protein of 85 kDa. This antibody does not cross-react with FosB protein.
Source / Purification
Monoclonal antibody is produced by immunizing animals with a synthetic peptide corresponding to residues near the carboxy terminus of human delta FosB protein.
Western Blotting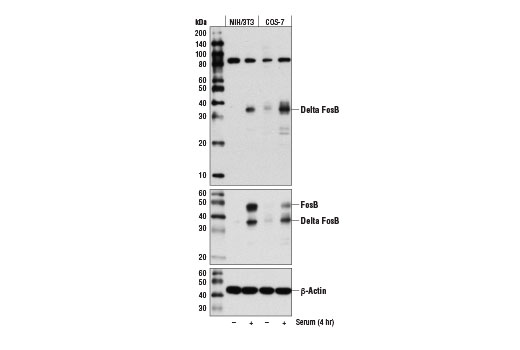 Western blot analysis of extracts from NIH/3T3 and COS-7 cells, serum-starved overnight and then left untreated (-) or serum-treated (4 hr; +), using Delta FosB (D3S8R) Rabbit mAb (upper), FosB Antibody #2263 (middle), and β-Actin (D6A8) Rabbit mAb #8457 (lower).
Background
The Fos family of nuclear oncogenes includes c-Fos, FosB, Fos-related antigen 1 (FRA1), and Fos-related antigen 2 (FRA2) (1). While most Fos proteins exist as a single isoform, the FosB protein exists as two isoforms: full-length FosB and a shorter form, FosB2 (Delta FosB), which lacks the carboxy-terminal 101 amino acids (1-3). The expression of Fos proteins is rapidly and transiently induced by a variety of extracellular stimuli including growth factors, cytokines, neurotransmitters, polypeptide hormones, and stress. Fos proteins dimerize with Jun proteins (c-Jun, JunB, and JunD) to form Activator Protein-1 (AP-1), a transcription factor that binds to TRE/AP-1 elements and activates transcription. Fos and Jun proteins contain the leucine-zipper motif that mediates dimerization and an adjacent basic domain that binds to DNA. The various Fos/Jun heterodimers differ in their ability to transactivate AP-1 dependent genes. In addition to increased expression, phosphorylation of Fos proteins by Erk kinases in response to extracellular stimuli may further increase transcriptional activity (4-6). Phosphorylation of c-Fos at Ser32 and Thr232 by Erk5 increases protein stability and nuclear localization (5). Phosphorylation of FRA1 at Ser252 and Ser265 by Erk1/2 increases protein stability and leads to overexpression of FRA1 in cancer cells (6). Following growth factor stimulation, expression of FosB and c-Fos in quiescent fibroblasts is immediate, but very short-lived, with protein levels dissipating after several hours (7). FRA1 and FRA2 expression persists longer, and appreciable levels can be detected in asynchronously growing cells (8). Deregulated expression of c-Fos, FosB, or FRA2 can result in neoplastic cellular transformation; however, Delta FosB lacks the ability to transform cells (2,3).
The delta FosB protein is encoded by the FosB gene and is produced by alternative splicing. This shorter isoform lacks a carboxy-terminal FosB region that contains ubiquitination sites and results in more stable delta FosB protein (9). Induced delta FosB accumulates in select brain regions upon chronic drug use (10-12) where it interacts with JunD to form an active, long-lasting AP-1 complex (13). This complex may represent a molecular switch that helps initiate and maintain the addicted state (14,15).
Application References
Have you published research involving the use of our products? If so we'd love to hear about it. Please let us know!
Protocols
Companion Products
---
For Research Use Only. Not For Use In Diagnostic Procedures.
Cell Signaling Technology is a trademark of Cell Signaling Technology, Inc.
XP is a registered trademark of Cell Signaling Technology, Inc.
Tween is a registered trademark of ICI Americas, Inc.
Cell Signaling Technology® is a trademark of Cell Signaling Technology, Inc.
用户评论 --- 共 0 条
该产品暂无评论!