Product Pathways - Cytoskeletal Signaling
Sec24C (D9M4N) Rabbit mAb #14676
PhosphoSitePlus ® protein, site, and accession data: SEC24C
Applications
Dilution
Species-Reactivity
Sensitivity
MW (kDa)
Isotype
W
1:1000
Human,
Endogenous
120
Rabbit IgG
IF-IC
1:100
Species cross-reactivity is determined by western blot.
Applications Key: W=Western Blotting, IF-IC=Immunofluorescence (Immunocytochemistry),
Specificity / Sensitivity
Sec24C (D9M4N) Rabbit mAb recognizes endogenous levels of total Sec24C protein.
Source / Purification
Monoclonal antibody is produced by immunizing animals with a synthetic peptide corresponding to residues surrounding Pro288 of human Sec24C protein.
IF-IC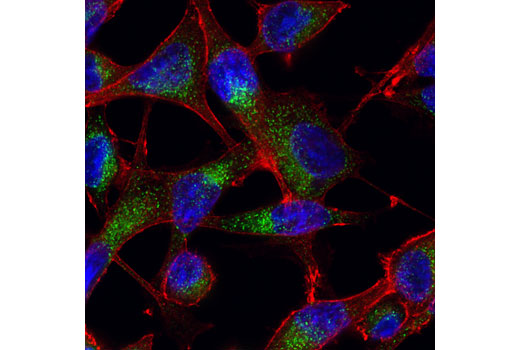 Confocal immunofluorescent analysis of A-204 cells using Sec24C (D9M4N) Rabbit mAb (green) and β-Actin (8H10D10) Mouse mAb #3700 (red). Blue pseudocolor = DRAQ5® #4084 (fluorescent DNA dye).
Background
Coat Protein Complex II (COPII) is composed of five cytosolic proteins: Sec23/24 complex, Sec13/31 complex, and Sar1. COPII coat is located at the ER/Golgi interface and is involved in transport of newly synthesized proteins from the ER to the Golgi apparatus (1). COPII formation is initiated through the binding of the activated G protein, Sar1, to the Sec23/24 complex, thereby forming a prebudding complex that directly binds target molecules (1-3). The prebudding complex further recruits Sec13/31 to form mature COPII coat (4,5). The Sec24 subunit of COPII coat is thought to play a critical role in cargo selection (2,6). It binds directly to cargo proteins at the ER and brings them to COPII vesicles through interaction with Sec23. There are four Sec24 isoforms in human cells: Sec24A, Sec24B, Sec24C, and Sec24D (7). In mice, mutations in Sec24B have been linked to developmental defects (8,9).
Application References
Have you published research involving the use of our products? If so we'd love to hear about it. Please let us know!
Protocols
14676 :
Companion Products
---
For Research Use Only. Not For Use In Diagnostic Procedures.
DRAQ5 is a registered trademark of Biostatus Limited.
Cell Signaling Technology is a trademark of Cell Signaling Technology, Inc.
Tween is a registered trademark of ICI Americas, Inc.
Cell Signaling Technology® is a trademark of Cell Signaling Technology, Inc.
用户评论 --- 共 0 条
该产品暂无评论!