Product Pathways - Metabolism
UCP1 (D9D6X) Rabbit mAb #14670
PhosphoSitePlus ® protein, site, and accession data: UCP1
Applications
Dilution
Species-Reactivity
Sensitivity
MW (kDa)
Isotype
W
1:1000
Mouse,
Endogenous
30
Rabbit IgG
IP
1:50
Species cross-reactivity is determined by western blot.
Applications Key: W=Western Blotting, IP=Immunoprecipitation,
Homology
Species predicted to react based on 100% sequence homology: Human,
Specificity / Sensitivity
UCP1 (D9D6X) Rabbit mAb recognizes endogenous levels of total UCP1 protein. This antibody does not cross-react with UCP2 and UCP3 proteins.
Source / Purification
Monoclonal antibody is produced by immunizing animals with a synthetic peptide corresponding to residues near the carboxy terminus of human UCP1 protein.
Western Blotting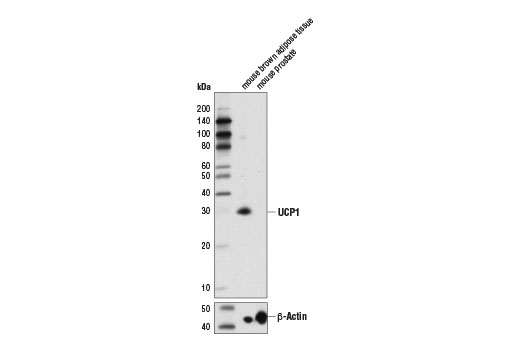 Western blot analysis of extracts from mouse brown adipose tissue (positive) and mouse prostate (negative) using UCP1 (D9D6X) Rabbit mAb (upper) and β-Actin (D6A8) Rabbit mAb #8457 (lower).
Background
Uncoupling protein 1 (UCP1) is a mitochondrial inner membrane transport protein that is primarily expressed in brown adipose tissue (BAT). UCP1 dissipates the pH gradient resulting from oxidative phosphorylation, which uncouples ATP synthesis from oxidative phosphorylation and leads to the release of heat energy. As a result, UCP1 plays an important role in thermogenesis (reviewed in 1). Research studies indicate that subcutaneous white adipose depots in mice contain beige adipocytes that express low levels of UCP1 protein (2). Additional studies show possible differences in thermogenesis in individuals carrying specific polymorphisms in the corresponding UCP1 gene (3). Related studies link UCP1 to the possible development of obesity and type 2 diabetes (4).
Application References
Have you published research involving the use of our products? If so we'd love to hear about it. Please let us know!
Protocols
Companion Products
---
For Research Use Only. Not For Use In Diagnostic Procedures.
Cell Signaling Technology is a trademark of Cell Signaling Technology, Inc.
XP is a registered trademark of Cell Signaling Technology, Inc.
Tween is a registered trademark of ICI Americas, Inc.
Cell Signaling Technology® is a trademark of Cell Signaling Technology, Inc.
用户评论 --- 共 0 条
该产品暂无评论!