Product Pathways - DNA Damage
FANCA (D1L2Z) Rabbit mAb #14657
PhosphoSitePlus ® protein, site, and accession data: FANCA
Applications
Dilution
Species-Reactivity
Sensitivity
MW (kDa)
Isotype
W
1:1000
Human,
Endogenous
160
Rabbit IgG
IP
1:100
Species cross-reactivity is determined by western blot.
Applications Key: W=Western Blotting, IP=Immunoprecipitation,
Specificity / Sensitivity
FANCA (D1L2Z) Rabbit mAb recognizes endogenous levels of total FANCA protein.
Source / Purification
Monoclonal antibody is produced by immunizing animals with a synthetic peptide corresponding to residues surrounding Ala514 of human FANCA protein.
IP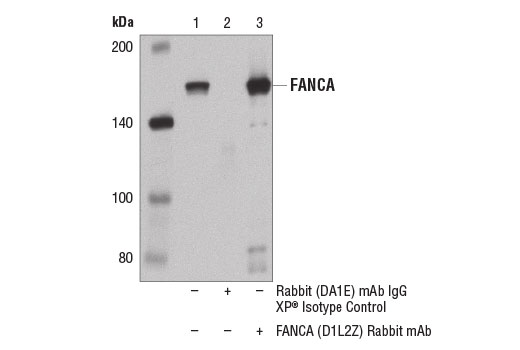 Immunoprecipitation of FANCA from 293T cell extracts using Rabbit (DA1E) mAb IgG XP® Isotype Control #3900 (lane 2) or FANCA (D1L2Z) Rabbit mAb (lane 3). Lane 1 is 10% input. Western blot was performed using FANCA (D1L2Z) Rabbit mAb.
Background
Fanconi anemia (FA) is an autosomal recessive genetic disorder that results in chromosomal breakage, bone marrow failure, hypersensitivity to DNA cross-linking agents (such as mitomycin C), and a predisposition to cancer (1). The ubiquitously expressed FA complementation group A protein (FANCA, FAA) is a component of the FA nuclear complex that also contains FANCB, FANCC, FANCE, FANCF, FANCG, FANCL, and FANCM. In response to DNA damage, the FA nuclear complex induces mono-ubiquitination of FANCD2 and FANCI (2). FANCJ/BRIP1, FANCD1/BRCA2 and FANCN/PALB2 are then recruited to sites of DNA damage along with other DNA repair proteins. FA signaling is important in maintenance of chromosome stability and control of mitosis (3).
DNA-damage-dependent localization and stability of FANCA protein regulates FA complex function and localization. Interaction between FANCA protein and the Hsp90 chaperone protein regulates FANCA protein stability and turnover, and may play a role in controlling the FA DNA damage pathway (4). Mutations in the corresponding FANCA gene are responsible for the majority of cases of Fanconi anemia (5).
Application References
Have you published research involving the use of our products? If so we'd love to hear about it. Please let us know!
Protocols
Companion Products
---
For Research Use Only. Not For Use In Diagnostic Procedures.
Cell Signaling Technology is a trademark of Cell Signaling Technology, Inc.
XP is a registered trademark of Cell Signaling Technology, Inc.
Tween is a registered trademark of ICI Americas, Inc.
Cell Signaling Technology® is a trademark of Cell Signaling Technology, Inc.
用户评论 --- 共 0 条
该产品暂无评论!