Product Pathways - Transcription Factors
NRF2 (D9J1B) Rat mAb (IF Specific) #14596
PhosphoSitePlus ® protein, site, and accession data: NRF2
| Applications | Dilution | Species-Reactivity | Sensitivity | MW (kDa) | Isotype |
| --- | --- | --- | --- | --- | --- |
| IF-IC | 1:400 | Mouse, | Endogenous | 97-100 | Rat IgG2b |
Species cross-reactivity is determined by western blot.
Applications Key: IF-IC=Immunofluorescence (Immunocytochemistry),
Specificity / Sensitivity
NRF2 (D9J1B) Rat mAb (IF Specific) recognizes endogenous levels of total NRF2 protein.
Source / Purification
Monoclonal antibody is produced by immunizing animals with recombinant protein surrounding Ala200 of mouse NRF2 protein.
IF-IC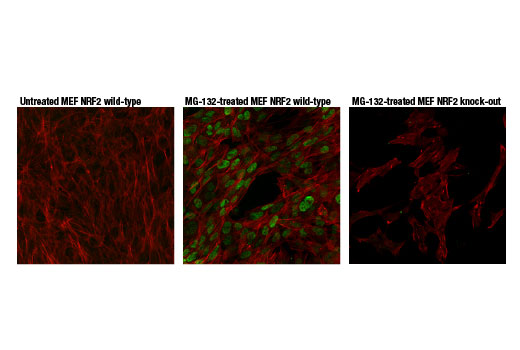 Confocal immunofluorescent analysis of MEF NRF2 wild-type cells, untreated (left) or treated with MG-132 #2194 (10 μM, 8 hr; center) and MEF NRF2 knock-out cells treated with MG-132 #2194 (10 μM, 8 hr; right), using NRF2 (D9J1B) Rat mAb (IF Specific) (green pseudocolor). Actin filaments were labeled with Alexa Fluor® 488 Phalloidin #8878 (red pseudocolor).
Background
The nuclear factor-like 2 (NRF2) transcriptional activator binds antioxidant response elements (ARE) of target gene promoter regions to regulate expression of oxidative stress response genes. Under basal conditions, the NRF2 inhibitor INrf2 (also called KEAP1) binds and retains NRF2 in the cytoplasm where it can be targeted for ubiquitin-mediated degradation (1). Small amounts of constitutive nuclear NRF2 maintain cellular homeostasis through regulation of basal expression of antioxidant response genes. Following oxidative or electrophilic stress, KEAP1 releases NRF2, thereby allowing the activator to translocate to the nucleus and bind to ARE-containing genes (2). The coordinated action of NRF2 and other transcription factors mediates the response to oxidative stress (3). Altered expression of NRF2 is associated with chronic obstructive pulmonary disease (COPD) (4). NRF2 activity in lung cancer cell lines directly correlates with cell proliferation rates, and inhibition of NRF2 expression by siRNA enhances anti-cancer drug-induced apoptosis (5).
Application References
Have you published research involving the use of our products? If so we'd love to hear about it. Please let us know!
Protocols
14596 :
Companion Products
---
For Research Use Only. Not For Use In Diagnostic Procedures.
Cell Signaling Technology is a trademark of Cell Signaling Technology, Inc.
Alexa Fluor is a registered trademark of Life Technologies Corporation.
Cell Signaling Technology® is a trademark of Cell Signaling Technology, Inc.
用户评论 --- 共 0 条
该产品暂无评论!