Product Pathways - Protein Stability
UBQLN1 (D3T7F) Rabbit mAb #14526
hPLIC-1 hPLIC1 Ubiquitin Receptors UBQLN-1 UBQLN1 Ubquitin Binding Proteins
PhosphoSitePlus ® protein, site, and accession data: UBQLN1
Applications
Dilution
Species-Reactivity
Sensitivity
MW (kDa)
Isotype
W
1:1000
Human,Monkey,
Endogenous
66
Rabbit IgG
IP
1:50
Species cross-reactivity is determined by western blot.
Applications Key: W=Western Blotting, IP=Immunoprecipitation,
Specificity / Sensitivity
UBQLN1 (D3T7F) Rabbit mAb recognizes endogenous levels of total UBQLN1 protein. This antibody does not cross-react with other UBQLN proteins.
Source / Purification
Monoclonal antibody is produced by immunizing animals with a synthetic peptide corresponding to residues near the amino terminus of human UBQLN1 protein.
Western Blotting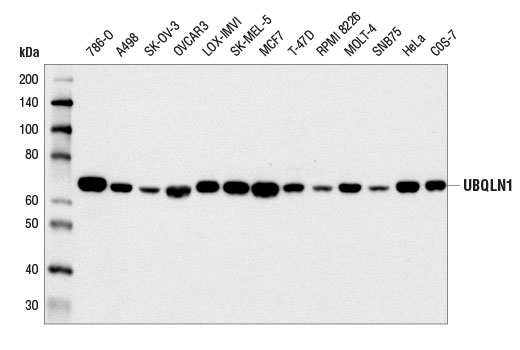 Western blot analysis of extracts from various cell lines using UBQLN1 (D3T7F) Rabbit mAb.
IP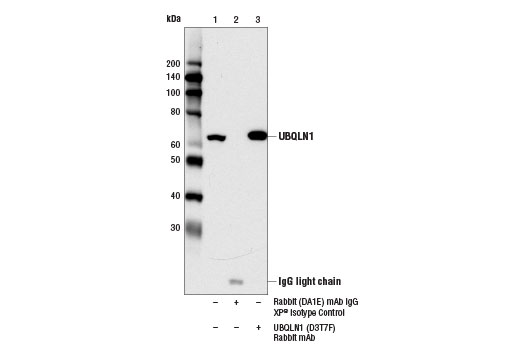 Immunoprecipitation of UBQLN1 from 293T cell extracts, using Rabbit (DA1E) mAb IgG XP® Isotype Control #3900 (lane 2) or UBQLN1 (D3T7F) Rabbit mAb (lane 3). Lane 1 is 10% input. Western blot analysis was performed using UBQLN1 (D3T7F) Rabbit mAb.
Background
Ubiquilin 1 (UBQLN1) is a ubiquitously expressed, type 2 ubiquitin like (UBL) protein that contains an amino-terminal UBL domain and a carboxy-terminal Ub-associated (UBA) domain (1). Research studies demonstrate that UBQLN1 associates with poly-Ub chains through its UBA domain, while the UBL domain participates in interactions with proteasome subunits. Evidence suggests that UBQLN1 acts as a shuttling factor during endoplasmic-reticulum-associated protein degradation (ERAD) as it transports misfolded, ubiquitinated proteins from the ER to the proteasome for subsequent degradation (2-5). Additional research studies demonstrate that the UBL domain of UBQLN1 binds UIM-containing endocytic proteins and participates in the sequestration of protein aggregates during aggresome formation (6,7). UBQLN1 regulates presenilin protein levels and is localized in neurofibrillary tangles of Alzheimer's disease-affected brains (8). Polymorphisms in the corresponding UBQLN1 gene may be associated with a risk of Alzheimer's disease (9-11).
Application References
Have you published research involving the use of our products? If so we'd love to hear about it. Please let us know!
Protocols
Companion Products
---
For Research Use Only. Not For Use In Diagnostic Procedures.
Cell Signaling Technology is a trademark of Cell Signaling Technology, Inc.
XP is a registered trademark of Cell Signaling Technology, Inc.
Tween is a registered trademark of ICI Americas, Inc.
Cell Signaling Technology® is a trademark of Cell Signaling Technology, Inc.
用户评论 --- 共 0 条
该产品暂无评论!