Product Pathways - Innate Immunity
OAS1 (D1W3A) Rabbit mAb #14498
PhosphoSitePlus ® protein, site, and accession data: OAS1
Applications
Dilution
Species-Reactivity
Sensitivity
MW (kDa)
Isotype
W
1:1000
Human,
Endogenous
40, 44
Rabbit IgG
IP
1:50
Species cross-reactivity is determined by western blot.
Applications Key: W=Western Blotting, IP=Immunoprecipitation,
Specificity / Sensitivity
OAS1 (D1W3A) Rabbit mAb recognizes endogenous levels of total OAS1 protein. This antibody cross-reacts with an unidentified protein of 100 kDa in some cell lines.
Source / Purification
Monoclonal antibody is produced by immunizing animals with a synthetic peptide corresponding to residues surrounding Asp90 of human OAS1 protien.
Western Blotting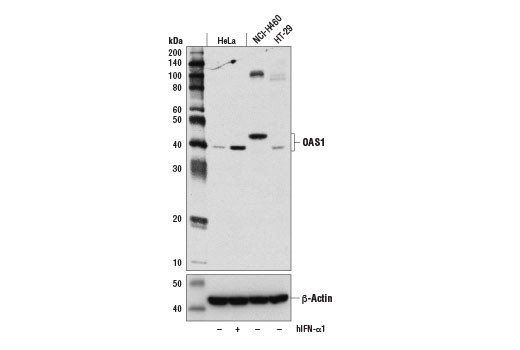 Western blot analysis of extracts from HeLa, NCI-H460, and HT-29 cells, untreated (-) or treated with Human Interferon-α1 (hIFN-α1) #8927 (10 ng/ml, 16 hr; +), using OAS1 (D1W3A) Rabbit mAb (upper) and β-Actin (D6A8) Rabbit mAb #8457 (lower).
Background
2'-5'-oligoadenylate synthetase 1 (OAS1) is an antiviral protein induced by type 1 interferon that plays a key role in the cellular innate immune response (1). The OAS family of proteins includes OAS1, OAS2, OAS3, and OASL in humans (2). The OAS1 enzyme produces the second messenger 2'-5'-linked oligoadenylate in response to cytosolic dsRNA. These 2'-5'-linked oligoadenylates bind to the ribonuclease RNase L, which then degrades viral and cellular RNA (3). Research studies indicate that the OAS1 system inhibits protein synthesis and induces apoptosis in virally infected cells, which limits viral infection (4). Alternative splicing generates multiple isoforms of human OAS1, including p41 and the canonical p46 (5,6). Polymorphisms in the corresponding OAS1 gene have been examined for possible association with increased susceptibility to type 1 diabetes mellitus, multiple sclerosis, and infection by viral pathogens (7,8).
Application References
Have you published research involving the use of our products? If so we'd love to hear about it. Please let us know!
Protocols
Companion Products
---
For Research Use Only. Not For Use In Diagnostic Procedures.
Cell Signaling Technology is a trademark of Cell Signaling Technology, Inc.
Tween is a registered trademark of ICI Americas, Inc.
Cell Signaling Technology® is a trademark of Cell Signaling Technology, Inc.
用户评论 --- 共 0 条
该产品暂无评论!