Product Pathways - Cell Cycle / Checkpoint
Vinblastine #14255
arrest Bcl c-jun cell cjun cycle histone inhibitor mitosis SAPK/JNK VBL
PhosphoSitePlus ® protein, site, and accession data: VINBLASTINE
| Applications | Dilution | Species-Reactivity | Sensitivity | MW (kDa) | Isotype |
| --- | --- | --- | --- | --- | --- |
Species cross-reactivity is determined by western blot.
Applications Key:
Description
Molecular Weight:
909.05 g/mol
Molecular Characterization
C46H58N4O9•H2SO4
Purity
>98%
Bioactivity
Solubility: Soluble in DMSO and water at 50 mg/ml. Poorly soluble in ethanol.
Western Blotting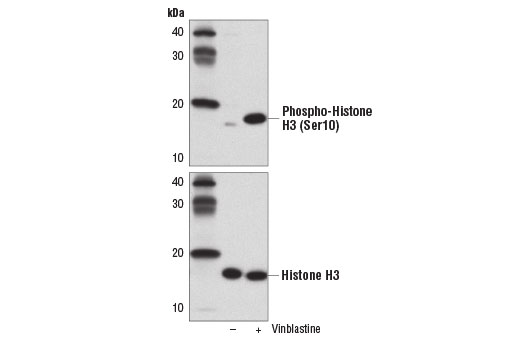 Western blot analysis of extracts from HeLa cells, untreated (-) or treated with Vinblastine (10 nM, 18 hr; +), using Phospho-Histone H3 (Ser10) (D2C8) XP® Rabbit mAb #3377 (upper) or Histone H3 (D1H2) XP® Rabbit mAb #4499 (lower).
Directions for Use
Vinblastine is supplied as a lyophilized powder. For a 10 mM stock, reconstitute the 5 mg in 550 μl DMSO. Working concentrations and length of treatment can vary depending on the desired effect, but it is typically used at 10-1000 nM for 12-48 hr.
Background
Vinblastine is a vinca alkaloid derived from the plant Catharanthus roseus. Like other vinca alkaloids, it acts as a mitotic inhibitor blocking microtubule assembly in vitro (1,2). Investigators have demonstrated that vinblastine binds to and inhibits the addition of tubulin dimers to the assembly end of steady-state microtubules in a dose-dependent manner (Ki = ~178 nM) (1). This disruption of mitotic spindle causes mitotic arrest, inhibits cell proliferation, and induces apoptosis (1-3). Studies have suggested that high concentrations of vinblastine depolymerize microtubules, but this is not required for inhibition of cell proliferation (2). Treatment of cells with vinblastine has been shown to activate the SAPK/JNK pathway, leading to expression and phosphorylation of c-Jun (3,4) and phosphorylation of the anti-apoptotic proteins Bcl-2 and Bcl-xL (5,6).
Application References
Have you published research involving the use of our products? If so we'd love to hear about it. Please let us know!
Companion Products
---
For Research Use Only. Not For Use In Diagnostic Procedures.
Cell Signaling Technology is a trademark of Cell Signaling Technology, Inc.
XP is a registered trademark of Cell Signaling Technology, Inc.
Cell Signaling Technology® is a trademark of Cell Signaling Technology, Inc.
用户评论 --- 共 0 条
该产品暂无评论!