Product Pathways - PI3K / Akt Signaling
Perifosine #14240
Akt etoposide inhibitor PDK1 peri PI3 pleckstrin homology
PhosphoSitePlus ® protein, site, and accession data: PERIFOSINE
| Applications | Dilution | Species-Reactivity | Sensitivity | MW (kDa) | Isotype |
| --- | --- | --- | --- | --- | --- |
Species cross-reactivity is determined by western blot.
Applications Key:
Description
Molecular Weight:
461.66 g/mol
Molecular Characterization
C25H52NO4P
Purity
>99%
Western Blotting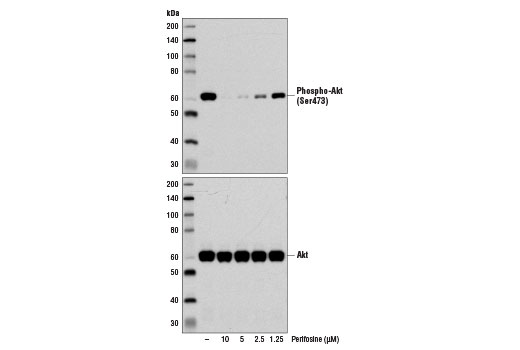 Western blot analysis of extracts from PC-3 cells, untreated (-) or treated with Perifosine (1 hr) at the indicated concentrations, using Phospho-Akt (Ser473) (D9E) XP® Rabbit mAb #4060 (upper) or Akt (pan) (C67E7) Rabbit mAb #4691 (lower).
Directions for Use
Perifosine is supplied as a lyophilized powder. For a 20 mM stock, reconstitute the 5 mg in 541.5 μl ethanol or sterile water. Working concentrations and length of treatment can vary depending on the desired effect, but it is typically used at 5-40 μM for 1-24 hr.
Background
Perifosine, also known as KRX-0401, is a novel synthetic alkylphospholipid with a structure that closely resembles naturally occurring phospholipids. Perifosine inhibits Akt at both Ser473 and Thr308 sites via blocking pleckstrin homology (PH) domain mediated Akt cell membrane recruitment and activation. It does not directly affect PI3 Kinase or PDK1 activity (1). Investigators have shown that perifosine inhibits Akt in a dose dependent manner at concentrations causing cell growth inhibition in numerous cancer cell types including PC-3, multiple myeloma (MM), and malignant pleural mesothelioma (MMe) cells (1-3). Research studies have demonstrated that perifosine blocks cell cycle progression in squamous carcinoma cells by inducing p21WAF1 expression through a p53-independent pathway (4). Perifosine has been shown to possess a synergistic cytotoxicity with many other antineoplastic reagents. For example, investigators have demonstrated that perifosine and etoposide treatment of human leukemia T cells results in more pronounced reduction of Akt and FoxO1 phosphorylation levels, increased mitochondrial injury and caspase activation, and a marked increase in cell death (5).
Application References
Have you published research involving the use of our products? If so we'd love to hear about it. Please let us know!
---
For Research Use Only. Not For Use In Diagnostic Procedures.
Cell Signaling Technology is a trademark of Cell Signaling Technology, Inc.
XP is a registered trademark of Cell Signaling Technology, Inc.
Cell Signaling Technology® is a trademark of Cell Signaling Technology, Inc.
用户评论 --- 共 0 条
该产品暂无评论!