Product Pathways - Chromatin Regulation / Epigenetics
Mono-Methyl-Histone H3 (Lys9) (D1P5R) Rabbit mAb #14186
PhosphoSitePlus ® protein, site, and accession data: HISTONE H3
Applications
Dilution
Species-Reactivity
Sensitivity
MW (kDa)
Isotype
W
1:1000
Human,Mouse,Rat,Monkey,
Endogenous
17
Rabbit IgG
IP
1:100
IF-IC
1:3200
ChIP
1:50
Species cross-reactivity is determined by western blot.
Applications Key: W=Western Blotting, IP=Immunoprecipitation, IF-IC=Immunofluorescence (Immunocytochemistry), ChIP=Chromatin IP,
Homology
Species predicted to react based on 100% sequence homology: Xenopus, Zebrafish, Pig, S. cerevisiae, Horse,
Specificity / Sensitivity
Mono-Methyl-Histone H3 (Lys9) (D1P5R) Rabbit mAb recognizes endogenous levels of histone H3 protein only when mono-methylated at Lys9. This antibody does not cross-react with non-methylated, di-methylated, or tri-methylated Lys9. In addition, the antibody does not cross-react with other known mono-methylated, di-methylated, or tri-methylated lysines on histones H3, H4, H2A, or H2B.
Source / Purification
Monoclonal antibody is produced by immunizing animals with a synthetic peptide corresponding to residues surrounding mono-methyl Lys9 of human histone H3 protein.
Chromatin IP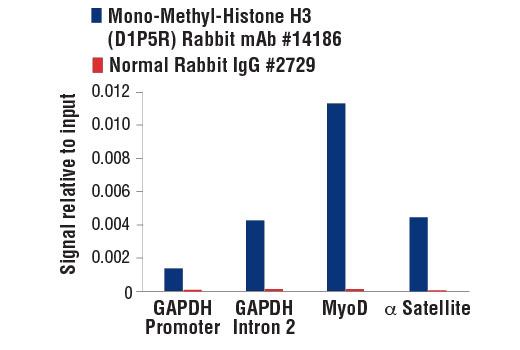 Chromatin immunoprecipitations were performed with cross-linked chromatin from 4 x 106 HeLa cells and either 10 μl of Mono-Methyl-Histone H3 (Lys9) (D1P5R) Rabbit mAb or 2 μl of Normal Rabbit IgG #2729 using SimpleChIP® Enzymatic Chromatin IP Kit (Magnetic Beads) #9003. The enriched DNA was quantified by real-time PCR using SimpleChIP® Human GAPDH Promoter Primers #4471, SimpleChIP® Human GAPDH Intron 2 Primers #4478, SimpleChIP® Human MyoD Exon 1 Primers #4490, and SimpleChIP® Human α Satellite Repeat Primers #4486. The amount of immunoprecipitated DNA in each sample is represented as signal relative to the total amount of input chromatin, which is equivalent to one.
IF-IC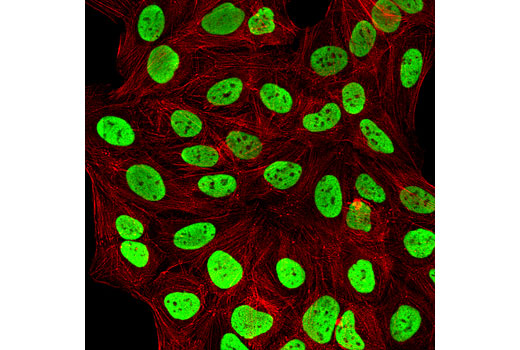 Confocal immunofluorescent analysis of U-2 OS cells using Mono-Methyl-Histone H3 (Lys9) (D1P5R) Rabbit mAb (green). Actin filaments were labeled with DyLight™ 554 Phalloidin #13054 (red).
Background
The nucleosome, made up of four core histone proteins (H2A, H2B, H3, and H4), is the primary building block of chromatin. Originally thought to function as a static scaffold for DNA packaging, histones have now been shown to be dynamic proteins, undergoing multiple types of post-translational modifications, including acetylation, phosphorylation, methylation, and ubiquitination (1). Histone methylation is a major determinant for the formation of active and inactive regions of the genome and is crucial for the proper programming of the genome during development (2,3). Arginine methylation of histones H3 (Arg2, 17, 26) and H4 (Arg3) promotes transcriptional activation and is mediated by a family of protein arginine methyltransferases (PRMTs), including the co-activators PRMT1 and CARM1 (PRMT4) (4). In contrast, a more diverse set of histone lysine methyltransferases has been identified, all but one of which contain a conserved catalytic SET domain originally identified in the Drosophila Su(var)3-9, Enhancer of zeste, and Trithorax proteins. Lysine methylation occurs primarily on histones H3 (Lys4, 9, 27, 36, 79) and H4 (Lys20) and has been implicated in both transcriptional activation and silencing (4). Methylation of these lysine residues coordinates the recruitment of chromatin modifying enzymes containing methyl-lysine binding modules such as chromodomains (HP1, PRC1), PHD fingers (BPTF, ING2), tudor domains (53BP1), and WD-40 domains (WDR5) (5-8). The discovery of histone demethylases such as PADI4, LSD1, JMJD1, JMJD2, and JHDM1 has shown that methylation is a reversible epigenetic marker (9).
Application References
Have you published research involving the use of our products? If so we'd love to hear about it. Please let us know!
Protocols
Companion Products
---
For Research Use Only. Not For Use In Diagnostic Procedures.
DyLight is a trademark of Thermo Fisher Scientific, Inc. and its subsidiaries.
Cell Signaling Technology is a trademark of Cell Signaling Technology, Inc.
SimpleChIP is a registered trademark of Cell Signaling Technology, Inc.
Tween is a registered trademark of ICI Americas, Inc.
Cell Signaling Technology® is a trademark of Cell Signaling Technology, Inc.
用户评论 --- 共 0 条
该产品暂无评论!