Product Pathways - Chromatin Regulation / Epigenetics
Histone H4 (D2X4V) Rabbit mAb (ChIP Formulated) #14149
PhosphoSitePlus ® protein, site, and accession data: HISTONE H4
| Applications | Dilution | Species-Reactivity | Sensitivity | MW (kDa) | Isotype |
| --- | --- | --- | --- | --- | --- |
| ChIP | 1:50 | Human, | Endogenous | | Rabbit IgG |
Species cross-reactivity is determined by western blot.
Applications Key: ChIP=Chromatin IP,
Homology
Species predicted to react based on 100% sequence homology: Mouse, Rat, Hamster, Monkey, Chicken, Bovine,
Specificity / Sensitivity
Histone H4 (D2X4V) Rabbit mAb (ChIP Formulated) recognizes endogenous levels of total histone H4 protein. This antibody does not cross-react with other histone proteins.
Source / Purification
Monoclonal antibody is produced by immunizing animals with a synthetic peptide corresponding to residues surrounding Ala38 of human histone H4 protein.
Chromatin IP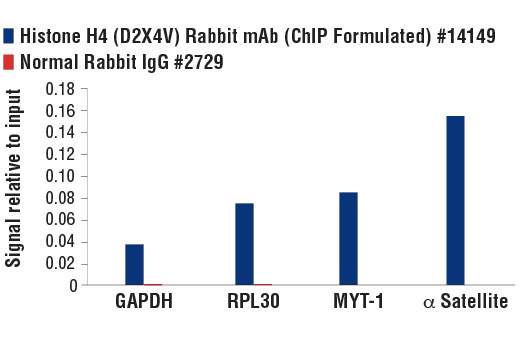 Chromatin immunoprecipitations were performed with cross-linked chromatin from 4 x 106 HeLa cells and either 10 μl of Histone H4 (D2X4V) Rabbit mAb (ChIP Formulated) or 2 μl of Normal Rabbit IgG #2729 using SimpleChIP® Enzymatic Chromatin IP Kit (Magnetic Beads) #9003. The enriched DNA was quantified by real-time PCR using SimpleChIP® Human GAPDH Exon 1 Primers #5516, SimpleChIP® Human RPL30 Exon 3 Primers #7014, SimpleChIP® Human MYT-1 Exon 1 Primers #4493, and SimpleChIP® Human α Satellite Repeat Primers #4486. The amount of immunoprecipitated DNA in each sample is represented as signal relative to the total amount of input chromatin, which is equivalent to one.
Background
Modulation of chromatin structure plays an important role in the regulation of transcription in eukaryotes. The nucleosome, made up of DNA wound around eight core histone proteins (two each of H2A, H2B, H3, and H4), is the primary building block of chromatin (1). The amino-terminal tails of core histones undergo various post-translational modifications, including acetylation, phosphorylation, methylation, and ubiquitination (2-5). These modifications occur in response to various stimuli and have a direct effect on the accessibility of chromatin to transcription factors and, therefore, gene expression (6). In most species, histone H2B is primarily acetylated at Lys5, 12, 15, and 20 (4,7). Histone H3 is primarily acetylated at Lys9, 14, 18, 23, 27, and 56. Acetylation of H3 at Lys9 appears to have a dominant role in histone deposition and chromatin assembly in some organisms (2,3). Phosphorylation at Ser10, Ser28, and Thr11 of histone H3 is tightly correlated with chromosome condensation during both mitosis and meiosis (8-10). Phosphorylation at Thr3 of histone H3 is highly conserved among many species and is catalyzed by the kinase haspin. Immunostaining with phospho-specific antibodies in mammalian cells reveals mitotic phosphorylation at Thr3 of H3 in prophase and its dephosphorylation during anaphase (11).
Application References
Have you published research involving the use of our products? If so we'd love to hear about it. Please let us know!
Protocols
14149 :
Companion Products
---
For Research Use Only. Not For Use In Diagnostic Procedures.
Cell Signaling Technology is a trademark of Cell Signaling Technology, Inc.
SimpleChIP is a registered trademark of Cell Signaling Technology, Inc.
Cell Signaling Technology® is a trademark of Cell Signaling Technology, Inc.
用户评论 --- 共 0 条
该产品暂无评论!