Product Pathways - Chromatin Regulation / Epigenetics
MORF4L1/MRG15 (D2Y4J) Rabbit mAb #14098
PhosphoSitePlus ® protein, site, and accession data: MORF4L1
Applications
Dilution
Species-Reactivity
Sensitivity
MW (kDa)
Isotype
W
1:1000
Human,Mouse,Rat,Monkey,
Endogenous
40
Rabbit IgG
IP
1:50
Species cross-reactivity is determined by western blot.
Applications Key: W=Western Blotting, IP=Immunoprecipitation,
Homology
Species predicted to react based on 100% sequence homology: Hamster, Chicken, Bovine, Pig,
Specificity / Sensitivity
MORF4L1/MRG15 recognizes endogenous levels of total MORF4L1/MRG15 protein. This antibody may recognize a 90 kDa protein of unknown origin in some cells.
Source / Purification
Monoclonal antibody is produced by immunizing animals with a synthetic peptide corresponding to residues surrounding Ala237 of human MORF4L1/MRG15 protein.
Western Blotting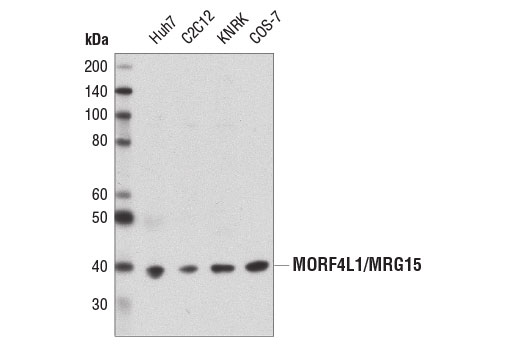 Western blot analysis of extracts from various cell lines using MORF4L1/MRG15 (D2Y4J) Rabbit mAb.
Background
Mortality factor 4-like protein 1 (MORF4L1/MRG15) is a chromo domain-containing protein that is part of several histone modifying complexes, including the Tip60 histone acetyltransferase (HAT) complex, histone deacetylase (HDAC) complexes, and the JARID1A and JARID1B histone demethylase complexes (1-6). MORF4L1/MRG15 recognizes di- or trimethylated Lys36 of histone H3 through its chromo domain. This interaction recruits and anchors MORF4L1/MRG15-associated chromatin modifying complexes to target genes for transcriptional regulation (7,8). MORF4L1/MRG15 plays a role in DNA repair as part of the Tip60 HAT complex (9,10). MORF4L1/MRG15 regulates alternative splicing during co-transcriptional splicing of mRNA as a part of the JARID1A complex (11). MORF4L1/MRG15 recruitment of the JARID1B complex to embryonic stem cell renewal-associated genes is important for repression of cryptic transcription and maintenance of proper transcriptional elongation (6).
Application References
Have you published research involving the use of our products? If so we'd love to hear about it. Please let us know!
Protocols
Companion Products
---
For Research Use Only. Not For Use In Diagnostic Procedures.
Cell Signaling Technology is a trademark of Cell Signaling Technology, Inc.
XP is a registered trademark of Cell Signaling Technology, Inc.
Tween is a registered trademark of ICI Americas, Inc.
Cell Signaling Technology® is a trademark of Cell Signaling Technology, Inc.
用户评论 --- 共 0 条
该产品暂无评论!