Product Pathways - Metabolism
Miro2 Antibody #14016
ARHT2 C16orf39 hMiro-2 MIRO-2 MIRO2 mitochondrial Rho 2 Mitochondrial Rho GTPase 2 Ras homolog gene family member T2 ras homolog gene family. member T2 RASL RHOT2
PhosphoSitePlus ® protein, site, and accession data: MIRO2
Applications
Dilution
Species-Reactivity
Sensitivity
MW (kDa)
Isotype
W
1:1000
Human,Monkey,
Endogenous
80
Rabbit
IP
1:50
Species cross-reactivity is determined by western blot.
Applications Key: W=Western Blotting, IP=Immunoprecipitation,
Specificity / Sensitivity
Miro2 Antibody recognizes endogenous levels of total Miro2 protein.
Source / Purification
Polyclonal antibodies are produced by immunizing animals with a synthetic peptide corresponding to residues surrounding Gly452 of human Miro2 protein. Antibodies are purified by protein A and peptide affinity chromatography.
Western Blotting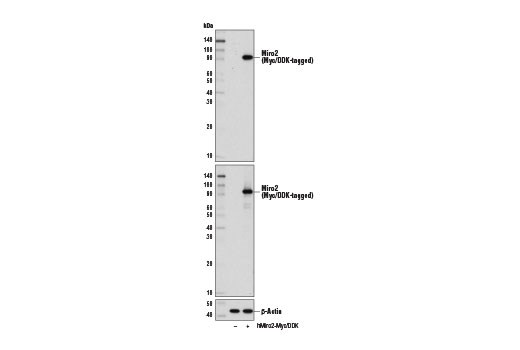 Western blot analysis of extracts from 293 cells, mock transfected (-) or transfected with a construct expressing Myc/DDK-tagged full-length human Miro2 protein (hMiro2-Myc/DDK; +), using Miro2 Antibody (upper), Myc-Tag (71D10) Rabbit mAb #2278 (middle), and β-Actin (D6A8) Rabbit mAb #8457 (lower).
Background
Mitochondrial Rho GTPase 1 (Miro1, RHOT1) and mitochondrial Rho GTPase 2 (Miro2, RHOT2) are atypical Ras GTPase proteins that localize to the outer mitochondrial membrane (1,2). These evolutionarily conserved proteins contain GTP-binding domains and a pair of calcium-binding EF hand domains (1,2). Research studies indicate that Miro1 and Miro2 function in the axonal transport of mitochondria in neurons (2). Both Miro proteins play an essential role in mitochondrial trafficking by attaching mitochondria to essential motor and adaptor proteins (3). Miro GTPase proteins that are anchored to the outer mitochondrial membrane interact with kinesin-binding proteins TRAK1 and TRAK2 to provide a link between mitochondria to microtubules (4). Increased levels of synaptic calcium appears to inhibit mitochondrial trafficking mediated by Miro, suggesting a role for the EF hand as a calcium sensor (5).
Application References
Have you published research involving the use of our products? If so we'd love to hear about it. Please let us know!
Protocols
Companion Products
---
For Research Use Only. Not For Use In Diagnostic Procedures.
Cell Signaling Technology is a trademark of Cell Signaling Technology, Inc.
Tween is a registered trademark of ICI Americas, Inc.
Cell Signaling Technology® is a trademark of Cell Signaling Technology, Inc.
用户评论 --- 共 0 条
该产品暂无评论!