Product Pathways - Apoptosis
Lamin B2 (E1S1Q) Rabbit mAb #13823
PhosphoSitePlus ® protein, site, and accession data: LAMIN B2
| Applications | Dilution | Species-Reactivity | Sensitivity | MW (kDa) | Isotype |
| --- | --- | --- | --- | --- | --- |
| W | 1:1000 | Human,Mouse, | Endogenous | 68-70 | Rabbit IgG |
Species cross-reactivity is determined by western blot.
Applications Key: W=Western Blotting,
Specificity / Sensitivity
Lamin B2 (E1S1Q) Rabbit mAb recognizes endogenous levels of total lamin B2 protein.
Source / Purification
Monoclonal antibody is produced by immunizing animals with a synthetic peptide corresponding to residues surrounding Leu55 of human lamin B2 protein.
Western Blotting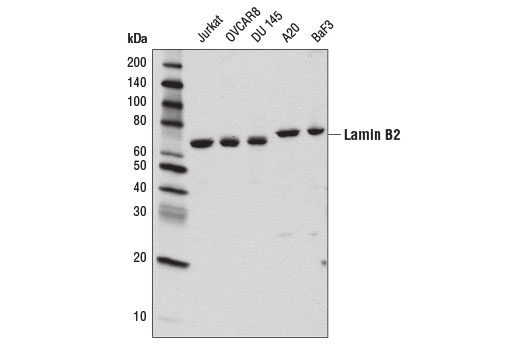 Western blot analysis of extracts from various cell lines using Lamin B2 (E1S1Q) Rabbit mAb.
Background
Lamins are nuclear membrane structural components that are important in maintaining normal cell functions, such as cell cycle control, DNA replication, and chromatin organization (1-3). Lamins have been subdivided into types A and B. Type-A lamins consist of lamin A and C, which arise from alternative splicing of the lamin A gene LMNA. Lamin A and C are cleaved by caspases into large (41-50 kDa) and small (28 kDa) fragments, which can be used as markers for apoptosis (4,5). Type-B lamins consist of lamin B1 and B2, encoded by separate genes (6-8). Lamin B1 is also cleaved by caspases during apoptosis (9). Research studies have shown that duplication of the lamin B1 gene LMNB1 is correlated with pathogenesis of the neurological disorder adult-onset leukodystrophy (10).
Research studies show that both lamin B2 and lamin B1 knockout mice exhibit neuronal developmental defects and that both proteins are essential for typical brain development. Lamin B1 and B2 deficiencies result in changes in nuclear morphology, with lamin B1 playing a role in regulating nuclear lamina integrity and lamin B2 inhibiting elongation of neuronal nuclei (11,12). Mutations in the corresponding lamin B2 gene (LMNB2) can result in a susceptibility to developing acquired partial lipodystrophy, a rare disorder characterized by the progressive loss of subcutaneous fat in a bilaterally symmetrical fashion (13).
Application References
Have you published research involving the use of our products? If so we'd love to hear about it. Please let us know!
Protocols
13823 :
Companion Products
---
For Research Use Only. Not For Use In Diagnostic Procedures.
Cell Signaling Technology is a trademark of Cell Signaling Technology, Inc.
Tween is a registered trademark of ICI Americas, Inc.
Cell Signaling Technology® is a trademark of Cell Signaling Technology, Inc.
用户评论 --- 共 0 条
该产品暂无评论!