Product Pathways - Nuclear Receptor Signaling
Phospho-Progesterone Receptor (Ser294) Antibody #13736
Ketosteroid Receptor Family NR3C3 Nuclear Hormone Receptors Transcription Factors
PhosphoSitePlus ® protein, site, and accession data: PROGESTERONE RECEPTOR
| Applications | Dilution | Species-Reactivity | Sensitivity | MW (kDa) | Isotype |
| --- | --- | --- | --- | --- | --- |
| W | 1:1000 | Human, | Endogenous | 90 (PR-A), 118 (PR-B) | Rabbit |
Species cross-reactivity is determined by western blot.
Applications Key: W=Western Blotting,
Homology
Species predicted to react based on 100% sequence homology: Mouse, Rat, Pig, Horse,
Specificity / Sensitivity
Phospho-Progesterone Receptor (Ser294) Antibody recognizes endogenous levels of progesterone receptor B (PR-B) and progesterone receptor A (PR-A) proteins only when phosphorylated at Ser294 and Ser130, respectively. This antibody does not cross-react with other progesterone receptor family members.
Source / Purification
Polyclonal antibodies are produced by immunizing animals with a synthetic phosphopeptide corresponding to residues surrounding Ser294 of human progesterone receptor B (PR-B) protein. Antibodies are purified by protein A and peptide affinity chromatography.
Western Blotting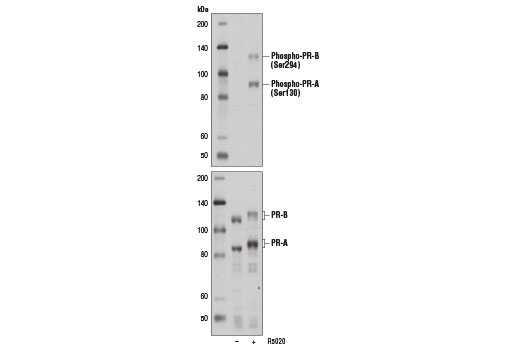 Western blot analysis of extracts from T-47D cells grown for 48 hr in phenol red-free medium supplemented with 5% charcoal-stripped FBS, untreated (-) or promegestone (R5020)-treated (100 nM, 1 hr; +), using Phospho-Progesterone Receptor (Ser294) Antibody (upper) and Progesterone Receptor A/B (D8Q2J) XP® Rabbit mAb #8757 (lower).
Background
Human progesterone receptor (PR) is expressed as two forms: the full length PR-B and the short form PR-A. PR-A lacks the first 164 amino acid residues of PR-B (1,2). Both PR-A and PR-B are ligand activated, but differ in their relative ability to activate target gene transcription (3,4). The activity of PR is regulated by phosphorylation; at least seven serine residues are phosphorylated in its amino-terminal domain. Three sites (Ser81, Ser102, and Ser162) are unique to full length PR-B, while other sites (Ser190, Ser294, Ser345, and Ser400) are shared by both isoforms (5). Phosphorylation of PR-B at Ser190 (equivalent to Ser26 of PR-A) is catalyzed by CDK2 (6). Mutation of Ser190 results in decreased activity of PR (7), suggesting that the phosphorylation at Ser190 may be critical to its biological function.
Progesterone receptor Ser294 is as an important hormone-dependent phospho-acceptor site that serves as an extracellular signaling "sensor." Research studies indicate that p44/p42 MAP kinases are responsible for phosphorylation of progesterone receptor at Ser294 following hormone binding. This phosphorylation event promotes nuclear retention of the receptor, enhanced transcriptional activity, and ubiquitin-dependent proteasomal degradation (6,8,9).
Application References
Have you published research involving the use of our products? If so we'd love to hear about it. Please let us know!
Protocols
13736 :
Companion Products
---
For Research Use Only. Not For Use In Diagnostic Procedures.
Cell Signaling Technology is a trademark of Cell Signaling Technology, Inc.
XP is a registered trademark of Cell Signaling Technology, Inc.
Tween is a registered trademark of ICI Americas, Inc.
Cell Signaling Technology® is a trademark of Cell Signaling Technology, Inc.
用户评论 --- 共 0 条
该产品暂无评论!