Product Pathways - Ca / cAMP / Lipid Signaling
IBMX #13630
cAMP cGMP CREB cyclic-nucleotide-regulated protein kinases PDE phosphodiesterase VASP
PhosphoSitePlus ® protein, site, and accession data: IBMX
| Applications | Dilution | Species-Reactivity | Sensitivity | MW (kDa) | Isotype |
| --- | --- | --- | --- | --- | --- |
Species cross-reactivity is determined by western blot.
Applications Key:
Description
Molecular Weight:
222.30 g/mol
Molecular Characterization
C10H14N4O2
Purity
>98%
Bioactivity
Solubility: Soluble in DMSO up to ~222 mg/ml (1M) with warming. Soluble in DMF or ethanol at 5 mg/ml.
Western Blotting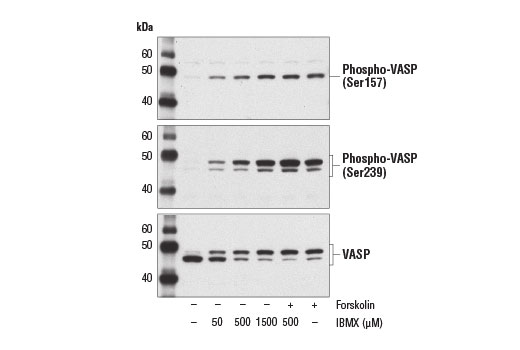 Western blot analysis of extracts from C2C12 cells, untreated (-) or treated with Forskolin #3828 (10 μM, 30 min; +) with or without IBMX pretreatment (4 hr) at the indicated concentrations, using Phospho-VASP (Ser157) Antibody #3111 (upper), Phospho-VASP (Ser239) Antibody #3114 (middle), or VASP (9A2) Rabbit mAb #3132 (lower).
Directions for Use
IBMX is supplied as a lyophilized powder. For a 250 mM stock, reconstitute the 50 mg in 899.7 µl DMSO. Working concentrations and length of treatment can vary depending on the desired effect, but it is typically used at 10-1,000 µM for 15 min-4 hr.
Background
3-isobutyl-1-methylxanthine (IBMX) is a nonselective inhibitor of cAMP and cGMP phosphodiesterases (PDEs). Research studies show that IBMX inhibits many members of the PDE family, with the exceptions of PDE8A, PDE8B, and PDE9 (1-4). Treatment of cells with IBMX promotes accumulation of cAMP and cGMP, which leads to activation of cyclic-nucleotide-regulated protein kinases (5,6). Additional research indicates that IBMX can promote neuronal progenitor cell maturation in vitro (7).
Application References
Have you published research involving the use of our products? If so we'd love to hear about it. Please let us know!
Companion Products
---
For Research Use Only. Not For Use In Diagnostic Procedures.
Cell Signaling Technology is a trademark of Cell Signaling Technology, Inc.
Cell Signaling Technology® is a trademark of Cell Signaling Technology, Inc.
用户评论 --- 共 0 条
该产品暂无评论!