Product Pathways - Cytoskeletal Signaling
Y-27632 #13624
inhibitor MLC MYPT ROCK Y27632
PhosphoSitePlus ® protein, site, and accession data: Y-27632
| Applications | Dilution | Species-Reactivity | Sensitivity | MW (kDa) | Isotype |
| --- | --- | --- | --- | --- | --- |
Species cross-reactivity is determined by western blot.
Applications Key:
Description
Molecular Weight:
320.30 g/mol
Molecular Characterization
C14H21N3O · 2HCl
Purity
>98%
Bioactivity
Solubility: Soluble in DMSO, DMF, and ethanol at 30 mg/ml, 20 mg/ml, and 5 mg/ml, respectively.
Western Blotting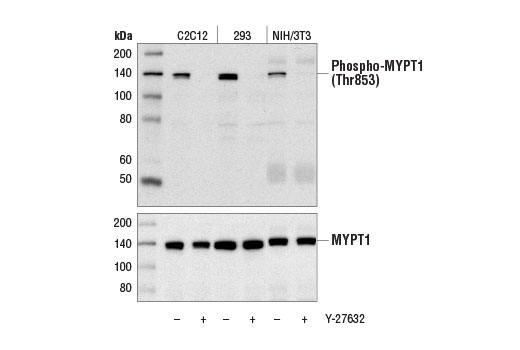 Western blot analysis of extracts from C2C12, 293, and NIH/3T3 cells, untreated (-) or treated with Y-27632 (10 μM, 1 hr; +), using Phospho-MYPT1 (Thr853) Antibody #4563 (upper) and MYPT1 Antibody #2634 (lower).
Directions for Use
Y-27632 is supplied as a lyophilized powder. For a 10 mM stock, reconstitute the 1 mg in 312.2 µl DMSO. Working concentrations and length of treatment can vary depending on the desired effect, but it is typically used at 1-10 µM for 15 min-4 hr.
Background
Y-27632 is a potent and selective ATP-competitive inhibitor of Rho-associated kinases (ROCK), with Ki values of 0.22 µM and 0.30 µM for ROCK1 and ROCK2, respectively. In vitro kinase assays demonstrate that Y-27632 exhibits a 20-fold greater preference for ROCK when compared to citron kinase and protein kinase N (1). Research studies show that Y-27632 treatment of cells leads to inhibition of ROCK phosphorylation of myosin phosphatase subunit 1 (MYPT1) at both Thr853 and Thr696, with a much greater inhibition of Thr853 phosphorylation (2,3). Y-27632 selectively inhibits smooth-muscle contraction by inhibiting Ca2+ sensitization (4). Additional research indicates that Y-27632 inhibits dissociation-induced apoptosis of cultured human embryonic stem cells over numerous passages and increases cloning efficiency (5).
Application References
Have you published research involving the use of our products? If so we'd love to hear about it. Please let us know!
Companion Products
---
For Research Use Only. Not For Use In Diagnostic Procedures.
Cell Signaling Technology is a trademark of Cell Signaling Technology, Inc.
Cell Signaling Technology® is a trademark of Cell Signaling Technology, Inc.
用户评论 --- 共 0 条
该产品暂无评论!