Product Pathways - PI3K / Akt Signaling
SB216763 #13621
akt beta catenin glycogen synthase GSK inhibitor insulin PI3
PhosphoSitePlus ® protein, site, and accession data: SB216763
| Applications | Dilution | Species-Reactivity | Sensitivity | MW (kDa) | Isotype |
| --- | --- | --- | --- | --- | --- |
Species cross-reactivity is determined by western blot.
Applications Key:
Description
Molecular Weight:
371.20 g/mol
Molecular Characterization
C19H12Cl2N2O2
Purity
>98%
Bioactivity
Solubility: Soluble in DMSO at 20 mg/ml. Very poorly soluble in ethanol and water.
Western Blotting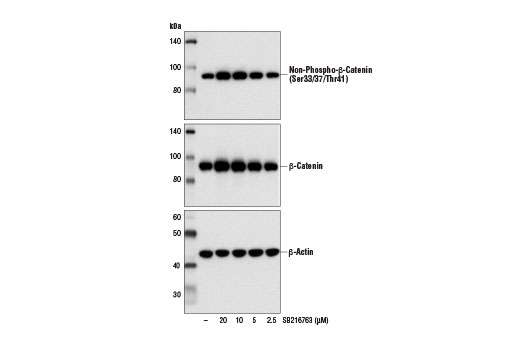 Western blot analysis of extracts from 293T cells, untreated (-) or treated with SB216763 (4 hr) at the indicated concentrations, using Non-phospho (Active) β-Catenin (Ser33/37/Thr41) (D13A1) Rabbit mAb #8814 (upper), β-Catenin (D10A8) XP® Rabbit mAb #8480 (middle), or β-Actin (D6A8) Rabbit mAb #8457 (lower).
Directions for Use
SB216763 is supplied as a lyophilized powder. For a 25 mM stock, reconstitute the 5 mg in 538.8 µl DMSO. Working concentrations and length of treatment can vary depending on the desired effect, but it is typically used at 5-25 µM for 3-24 hr.
Background
The maleimide derivative SB216763 is a potent and selective cell permeable inhibitor of glycogen synthase kinase 3 (GSK-3). Research studies using peptide-based protein kinase assays show that SB216763 inhibits GSK-3α in an ATP competitive manner with an IC50 of 34 nM, and is an equally effective GSK3-β inhibitor. Similar assays demonstrate that SB216763 (at concentrations up to 10 µM) does not inhibit as many as 24 other serine/threonine and tyrosine protein kinases (1). As a consequence of inhibiting GSK-3, SB216763 stimulates glycogen synthesis in human liver cells (EC50 3.6 µM) via glycogen synthase activation and induces expression of a β-catenin regulated reporter gene in HEK293 cells (1). Furthermore, SB216763 induces accumulation of β-catenin, a key downstream effector in the Wnt signaling pathway, in many cell types (2-5). Additional research indicates that SB216763 can prevent neuronal cell death induced by PI3 kinase pathway inhibition (2). Glycogen synthase kinase 3 inhibitors such as SB216763 can be important research tools in studying the functional role of GSK-3 in cell signaling pathways.
Application References
Have you published research involving the use of our products? If so we'd love to hear about it. Please let us know!
Companion Products
---
For Research Use Only. Not For Use In Diagnostic Procedures.
Cell Signaling Technology is a trademark of Cell Signaling Technology, Inc.
XP is a registered trademark of Cell Signaling Technology, Inc.
Cell Signaling Technology® is a trademark of Cell Signaling Technology, Inc.
用户评论 --- 共 0 条
该产品暂无评论!