Product Pathways - Chromatin Regulation / Epigenetics
JARID2 (D6M9X) Rabbit mAb #13594
PhosphoSitePlus ® protein, site, and accession data: JARID2
Applications
Dilution
Species-Reactivity
Sensitivity
MW (kDa)
Isotype
W
1:1000
Human,Mouse,
Endogenous
150
Rabbit IgG
IP
1:200
ChIP
1:50
Species cross-reactivity is determined by western blot.
Applications Key: W=Western Blotting, IP=Immunoprecipitation, ChIP=Chromatin IP,
Homology
Species predicted to react based on 100% sequence homology: Horse,
Specificity / Sensitivity
JARID2 (D6M9X) Rabbit mAb recognizes endogenous levels of total JARID2 protein.
Source / Purification
Monoclonal antibody is produced by immunizing animals with a synthetic peptide corresponding to residues surrounding Asp1114 of human JARID2 protein.
Western Blotting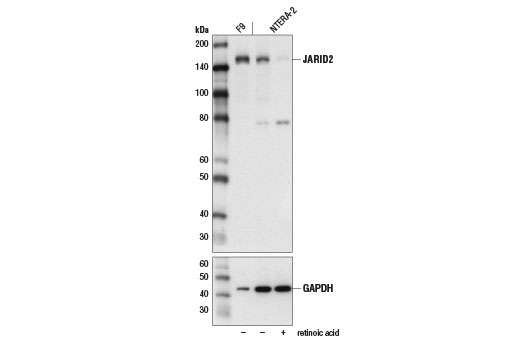 Western blot analysis of extracts from F9 cells and NTERA-2 cells, untreated (-) or treated with retinoic acid (1 μM, 5 d; +) to induce differentiation, using JARID2 (D6M9X) Rabbit mAb (upper) and GAPDH (D16H11) XP® Rabbit mAb #5174 (lower). As expected, JARID2 protein levels decrease upon NTERA-2 cell differentiation.
Chromatin IP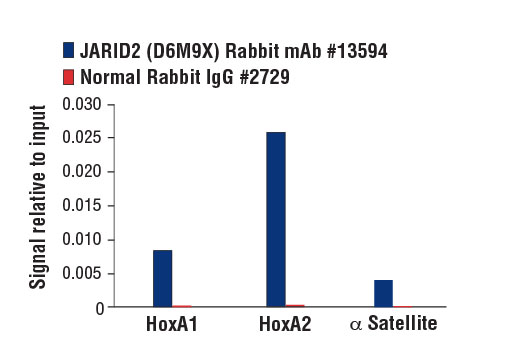 Chromatin immunoprecipitations were performed with cross-linked chromatin from 4 x 106 NCCIT cells and either 10 µl of JARID2 (D6M9X) Rabbit mAb or 2 µl of Normal Rabbit IgG #2729 using SimpleChIP® Enzymatic Chromatin IP Kit (Magnetic Beads) #9003. The enriched DNA was quantified by real-time PCR using SimpleChIP® Human HoxA1 Intron 1 Primers #7707, SimpleChIP® Human HoxA2 Promoter Primers #5517, and SimpleChIP® Human α Satellite Repeat Primers #4486. The amount of immunoprecipitated DNA in each sample is represented as signal relative to the total amount of input chromatin, which is equivalent to one.
Background
Jumonji/ARID domain-containing protein 2 (JARID2) is a founding member of the JmjC-domain-containing protein family that is involved in regulation of histone methyltransferase activity (1,2). While many proteins in this family are protein demethylases, JARID2 lacks several conserved residues in the catalytic domain and does not exhibit protein demethylase activity (1,2). Research studies indicate that JARID2 is a nuclear protein that is highly expressed in poorly differentiated and actively dividing cells, with expression decreasing upon cellular differentiation (3,4). Expression of JARID2 protein is essential for embryonic development as the protein plays an important role in regulation of heart and liver development, neural tube fusion, and hematopoiesis (4). JARID2 is an accessory component of the polycomb repressor complex 2 (PRC2), which represses target gene expression through methylation of histone H3 at lysine 27 by EZH2 methyltransferase (5-10). JARID2 recruits the PRC2 complex to target genes and increases EZH2 methyltransferase activity by binding to nucleosomes and DNA (5-10). Additional studies show that loss of JARID2 expression results in decreased recruitment of PRC2, decreased methylation of histone H3 at lysine 27 at target genes, and delayed and incomplete differentiation of embryonic stem cells (5-10). Experimental knockdown of JARID2 in Xenopus laevis impairs the induction of gastrulation genes in blastula embryos and results in differentiation failure (5).
Application References
Have you published research involving the use of our products? If so we'd love to hear about it. Please let us know!
Protocols
Companion Products
---
For Research Use Only. Not For Use In Diagnostic Procedures.
Cell Signaling Technology is a trademark of Cell Signaling Technology, Inc.
XP is a registered trademark of Cell Signaling Technology, Inc.
SimpleChIP is a registered trademark of Cell Signaling Technology, Inc.
Tween is a registered trademark of ICI Americas, Inc.
Cell Signaling Technology® is a trademark of Cell Signaling Technology, Inc.
用户评论 --- 共 0 条
该产品暂无评论!