Product Pathways - Chromatin Regulation / Epigenetics
PTMScan® Symmetric Di-Methyl Arginine Motif [sdme-RG] Kit #13563
PhosphoSitePlus ® protein, site, and accession data: METHYL ARGININE
REACTIVITY

Description
PTMScan® Technology employs a proprietary methodology from Cell Signaling Technology (CST) for peptide enrichment by immunoprecipitation using a specific bead-conjugated antibody in conjunction with liquid chromatography (LC) tandem mass spectrometry (MS/MS) for quantitative profiling of post-translational modification (PTM) sites in cellular proteins. These include phosphorylation (PhosphoScan®), ubiquitination (UbiScan®), acetylation (AcetylScan®), and methylation (MethylScan®), among others. PTMScan® Technology enables researchers to isolate, identify, and quantitate large numbers of post-translationally modified cellular peptides with a high degree of specificity and sensitivity, providing a global overview of PTMs in cell and tissue samples without preconceived biases about where these modified sites occur. For more information on PTMScan® Proteomics Services, please visit www.cellsignal.com/services/index.html.
Motif Logo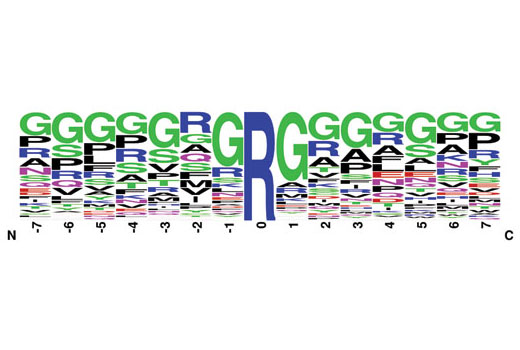 The Motif Logo was generated from a MethylScan® LC-MS/MS experiment using 95 nonredundant tryptic peptides derived from mouse embryo immunoprecipitated with PTMScan® Symmetric Di-Methyl Arginine Motif [sdme-RG] Immunoaffinity Beads. The logo represents the relative frequency of amino acids in each position surrounding the central symmetrically di-methylated arginine residue. Glycine residues are enriched, especially at the +1 and -1 positions, in the context of symmetric di-methyl arginine when compared to the overall expected frequency in the mouse proteome.
Directions for Use
Cells are lysed in a urea-containing buffer, cellular proteins are digested by proteases, and the resulting peptides are purified by reversed-phase solid-phase extraction. Peptides are then subjected to immunoaffinity purification using a PTMScan® Motif Antibody conjugated to protein A agarose beads. Unbound peptides are removed through washing, and the captured PTM-containing peptides are eluted with dilute acid. Reversed-phase purification is performed on microtips to desalt and separate peptides from antibody prior to concentrating the enriched peptides for LC-MS/MS analysis. CST recommends the use of PTMScan® IAP Buffer #9993 included in the kit. An alternate PTMScan® IAP Buffer Plus Detergent #9992, which may reduce nonspecific interactions, is available separately. A detailed protocol and Limited Use License allowing the use of the patented PTMScan® method are included with the kit.
Background
Arginine methylation is a prevalent PTM found on both nuclear and cytoplasmic proteins. Arginine methylated proteins are involved in many different cellular processes, including transcriptional regulation, signal transduction, RNA metabolism, and DNA damage repair (1-3). Arginine methylation is carried out by the arginine N-methyltransferase (PRMT) family of enzymes that catalyze the transfer of a methyl group from S-adenosylmethionine (AdoMet) to a guanidine nitrogen of arginine (4). There are three different types of arginine methylation: asymmetric dimethylarginine (aDMA, omega-NG,NG-dimethylarginine), where two methyl groups are placed on one of the terminal nitrogen atoms of the guanidine group of arginine; symmetric dimethylarginine (sDMA, omega-NG,N'G-dimethylarginine), where one methyl group is placed on each of the two terminal guanidine nitrogens of arginine; and monomethylarginine (MMA, omega-NG-dimethylarginine), where a single methyl group is placed on one of the terminal nitrogen atoms of arginine. Each of these modifications has potentially different functional consequences. Though all PRMT proteins catalyze the formation of MMA, Type I PRMTs (PRMT1, 3, 4, and 6) add an additional methyl group to produce aDMA, while Type II PRMTs (PRMT5 and 7) produce sDMA. Methylated arginine residues often reside in glycine-arginine rich (GAR) protein domains, such as RGG, RG, and RXR repeats (5). However, PRMT4/CARM1 and PRMT5 methylate arginine residues within proline-glycine-methionine rich (PGM) motifs (6).
In undifferentiated mouse embryonic neural precursors, symmetrically dimethylated histone H4R3 is prevalent, but in later stages of development, both symmetric and asymmetric dimethyl H4R3 modifications are detected in post-mitotic neurons and developing oligodendrocytes. This implies that sDMA modifications may be negative epigenetic regulatory events while aDMA modifications may signal epigenetic activation sites (7).
Application References
Have you published research involving the use of our products? If so we'd love to hear about it. Please let us know!
Companion Products
---
For Research Use Only. Not For Use In Diagnostic Procedures.
Cell Signaling Technology is a trademark of Cell Signaling Technology, Inc.
PTMScan is a trademark of Cell Signaling Technology, Inc.
AcetylScan is a trademark of Cell Signaling Technology, Inc.
PhosphoScan is a trademark of Cell Signaling Technology, Inc.
UbiScan is a trademark of Cell Signaling Technology, Inc.
MethylScan is a trademark of Cell Signaling Technology, Inc.
U.S. Pat. No. 9,085,609
Cell Signaling Technology® is a trademark of Cell Signaling Technology, Inc.
用户评论 --- 共 0 条
该产品暂无评论!