Product Pathways - Growth Factors/Cytokines
IL-17F (D3M4D) Rabbit mAb (Mouse Specific) #13186
PhosphoSitePlus ® protein, site, and accession data: IL17F
Applications
Dilution
Species-Reactivity
Sensitivity
MW (kDa)
Isotype
W
1:1000
Mouse,
Endogenous
18
Rabbit IgG
F
1:100
Species cross-reactivity is determined by western blot.
Applications Key: W=Western Blotting, F=Flow Cytometry,
Homology
Species predicted to react based on 100% sequence homology: Rat,
Specificity / Sensitivity
Mouse IL-17F (D3M4D) Rabbit mAb recognizes endogenous levels of total mouse IL-17F protein.
Source / Purification
Monoclonal antibody is produced by immunizing animals with a synthetic peptide corresponding to residues surrounding Ser93 of mouse IL-17F protein.
Western Blotting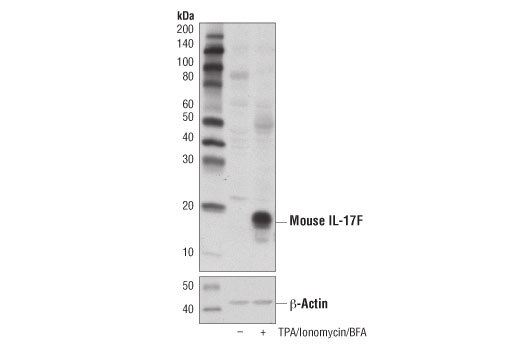 Western blot analysis of EL4 cells, untreated (-) or treated with TPA #4174 (50 ng/ml), Ionomycin, Calcium Salt #9995 (500 ng/ml), and Brefeldin A #9972 (500 ng/ml) overnight (+), using Mouse IL-17F (D3M4D) Rabbit mAb (upper) and β-Actin (D6A8) Rabbit mAb #8457 (lower).
Flow Cytometry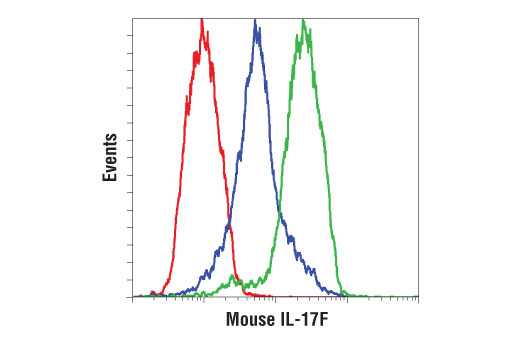 Flow cytometric analysis of mouse splenocytes, untreated (blue) or treated with PMA (50 ng/ml), Ionomycin (200 ng/ml), and hTGF-β (10 ng/ml) for 24 hr (green), using Mouse IL-17F (D3M4D) Rabbit mAb compared to a concentration-matched Rabbit (DA1E) mAb IgG XP® Isotype Control #3900 (red). Anti-rabbit IgG (H+L), F(ab')2 Fragment (Alexa Fluor® 488 Conjugate) #4412 was used as a secondary antibody.
Background
The IL-17 family of cytokines consists of IL-17A-F, and their receptors include IL-17RA-RE (1). IL-17 cytokines are produced by a variety of cell types including the Th17 subset of CD4+ T cells, as well as subsets of γδ T cells, NK cells, and NKT cells (2). IL-17A and IL-17F, the most well-studied of the IL-17 cytokines, contribute to fungal and bacterial immunity by inducing expression of proinflammatory cytokines, chemokines, and antimicrobial peptides (2). In addition, IL-17A contributes to the pathogenesis of several autoimmune diseases (3). IL-17E promotes Th2 cell responses (4). The roles of IL-17B, IL-17C, and IL-17D are less clear, however these family members also appear to have the capacity to induce proinflammatory cytokines (1,5,6). IL-17 receptors have an extracellular domain, a transmembrane domain, and a SEFIR domain. They are believed to signal as homodimers, heterodimers, or multimers through their SEFIR domain by recruiting the SEFIR domain-containing adaptor Act1 (7). Unlike most cytokines that signal through Jak/STAT pathways, IL-17 signaling results in NF-κB activation (8).
IL-17F is a cysteine-linked proinflammatory cytokine that can dimerize with itself or form heterodimers with the IL-17 family member that it shares 50% homology with, IL-17A (9). Although mainly produced by Th17 cells, IL-17F expression has been observed in several cell types including activated CD8+ T cells, γδ T cells, NKT cells, B cells and LTi cells. IL-17F binds to a heterodimeric receptor consisting of IL-17RA and IL-17RC, which upon binding induces the TRAF6-mediated activation of TAK and the Erk1/2 MAP kinase pathway (10). This induces the expression of numerous inflammatory chemokines and cytokines including IL-1β, IL-6, IL-8, and MIP-1β along with increased adhesion molecule expression in human airway epithelial cells, vein endothelial cells, and fibroblasts (11). IL-17F has been linked with asthma and other autoimmune diseases including rheumatoid arthritis, multiple sclerosis, psoriasis, and inflammatory bowel disease (12).
Application References
Have you published research involving the use of our products? If so we'd love to hear about it. Please let us know!
Protocols
13186 :
Companion Products
---
For Research Use Only. Not For Use In Diagnostic Procedures.
Cell Signaling Technology is a trademark of Cell Signaling Technology, Inc.
XP is a registered trademark of Cell Signaling Technology, Inc.
Alexa Fluor is a registered trademark of Life Technologies Corporation.
Tween is a registered trademark of ICI Americas, Inc.
Cell Signaling Technology® is a trademark of Cell Signaling Technology, Inc.
用户评论 --- 共 0 条
该产品暂无评论!