Product Pathways - NF-kB Signaling
c-Rel (D5G1A) Rabbit mAb (ChIP Formulated) #12659
PhosphoSitePlus ® protein, site, and accession data: REL
| Applications | Dilution | Species-Reactivity | Sensitivity | MW (kDa) | Isotype |
| --- | --- | --- | --- | --- | --- |
| ChIP | 1:50 | Human, | Endogenous | | Rabbit IgG |
Species cross-reactivity is determined by western blot.
Applications Key: ChIP=Chromatin IP,
Homology
Species predicted to react based on 100% sequence homology: Rat, Monkey,
Specificity / Sensitivity
c-Rel (D5G1A) Rabbit mAb (ChIP Formulated) recognizes endogenous levels of c-Rel in ChIP analysis.
Source / Purification
Monoclonal antibody is produced by immunizing animals with a synthetic peptide corresponding to residues surrounding Leu65 of human c-Rel protein.
Chromatin IP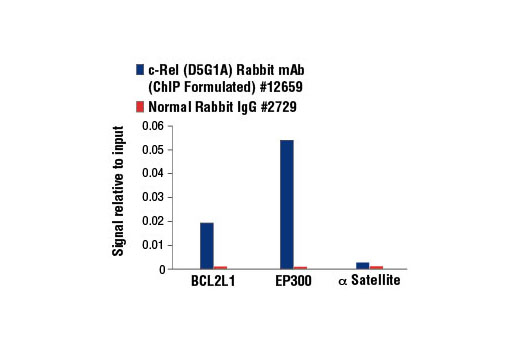 Chromatin immunoprecipitations were performed with cross-linked chromatin from 4 x 106 Jurkat cells treated with TPA (12-O-Tetradecanoylphorbol-13-Acetate) #4174 (50ng/ml) and Ionomycin, Calcium Salt #9995 (200ng/ml) and either 5 μl of c-Rel (D5G1A) Rabbit mAb (ChIP Formulated) or 2 μl of Normal Rabbit IgG #2729 using SimpleChIP® Enzymatic Chromatin IP Kit (Magnetic Beads) #9003. The enriched DNA was quantified by real-time PCR using human BCL2L1 promoter primers, SimpleChIP® Human EP300 Promoter Primers #12281, and SimpleChIP® Human α Satellite Repeat Primers #4486. The amount of immunoprecipitated DNA in each sample is represented as signal relative to the total amount of input chromatin, which is equivalent to one.
Background
Transcription factors of the nuclear factor κ B (NF-κB)/Rel family play a pivotal role in inflammatory and immune responses (1,2). There are five family members in mammals: RelA, c-Rel, RelB, NF-κB1 (p105/p50), and NF-κB2 (p100/p52). Both p105 and p100 are proteolytically processed by the proteasome to produce p50 and p52, respectively. Rel proteins bind p50 and p52 to form dimeric complexes that bind DNA and regulate transcription. In unstimulated cells, NF-κB is sequestered in the cytoplasm by IκB inhibitory proteins (3-5). NF-κB-activating agents can induce the phosphorylation of IκB proteins, targeting them for rapid degradation through the ubiquitin-proteasome pathway and releasing NF-κB to enter the nucleus where it regulates gene expression (6-8). NIK and IKKα (IKK1) regulate the phosphorylation and processing of NF-κB2 (p100) to produce p52, which translocates to the nucleus (9-11).
c-Rel contains an amino-terminal DNA-binding domain referred to as the REL homology domain (REH) and carboxy-terminal transactivation domains. The c-Rel protein is typically inhibited in unstimulated cells by IκBα and IκBβ. c-Rel expression is highest in hematopoietic cells with extensive research studies demonstrating its role in immune cell function and pathogenesis of disease (12,13).
Application References
Have you published research involving the use of our products? If so we'd love to hear about it. Please let us know!
Protocols
12659 :
Companion Products
---
For Research Use Only. Not For Use In Diagnostic Procedures.
Cell Signaling Technology is a trademark of Cell Signaling Technology, Inc.
SimpleChIP is a registered trademark of Cell Signaling Technology, Inc.
Cell Signaling Technology® is a trademark of Cell Signaling Technology, Inc.
用户评论 --- 共 0 条
该产品暂无评论!