Product Pathways - Chromatin Regulation / Epigenetics
Vorinostat (SAHA) #12520
acetyl acetylation HDAC histone histones SAHA tubulin vorinostat
PhosphoSitePlus ® protein, site, and accession data: SAHA
| Applications | Dilution | Species-Reactivity | Sensitivity | MW (kDa) | Isotype |
| --- | --- | --- | --- | --- | --- |
Species cross-reactivity is determined by western blot.
Applications Key:
Description
Molecular Weight:
264.32 g/mol
Molecular Characterization
C14H20N2O3
Purity
>99%
Western Blotting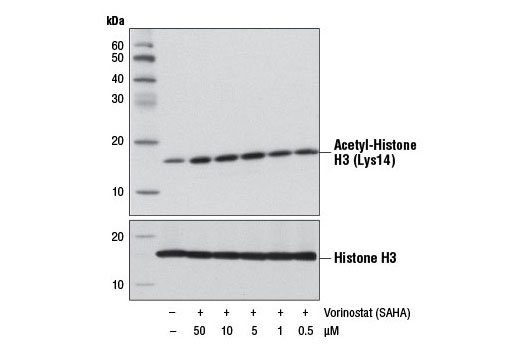 Western blot analysis of extracts from HeLa cells, untreated (-) or treated with Vorinostat (SAHA) (18 hr; +) at the indicated concentrations, using Acetyl-Histone H3 (Lys14) Antibody #4318 (upper) or Histone H3 (D1H2) XP® Rabbit mAb #4499 (lower).
Directions for Use
Vorinostat is supplied as a lyophilized powder. For a 20 mM stock, reconstitute the 5 mg in 945.8 µl DMSO. Working concentrations and length of treatment can vary depending on the desired effect, but it is typically used at 1-10 µM for 2-24 hr. Soluble in DMSO at 66 mg/ml; soluble in ethanol at 2 mg/ml with slight warming; very poorly soluble in water with maximum solubility ~20-50 µM.
Background
Vorinostat (SAHA) is a histone deacetylase (HDAC) inhibitor that acts by binding to and blocking the active site of the enzyme (1). Both class I and class II HDACs are inhibited by vorinostat at nanomolar concentrations (1-3). Research studies have shown that vorinostat causes the accumulation of acetylated histones, certain transcription factors, and other nonhistone proteins, which regulate gene expression and protein function. This leads to cell cycle arrest, differentiation, and/or apoptosis in many transformed cell types treated with micromolar concentrations of vorinostat (1,4-7).
Application References
Have you published research involving the use of our products? If so we'd love to hear about it. Please let us know!
Companion Products
---
For Research Use Only. Not For Use In Diagnostic Procedures.
Cell Signaling Technology is a trademark of Cell Signaling Technology, Inc.
XP is a registered trademark of Cell Signaling Technology, Inc.
Cell Signaling Technology® is a trademark of Cell Signaling Technology, Inc.
用户评论 --- 共 0 条
该产品暂无评论!