Product Pathways - Neuroscience
Phospho-Tau (Ser202) Antibody #11834
PhosphoSitePlus ® protein, site, and accession data: TAU
| Applications | Dilution | Species-Reactivity | Sensitivity | MW (kDa) | Isotype |
| --- | --- | --- | --- | --- | --- |
| W | 1:1000 | Human,Mouse,Rat, | Endogenous | 50-80 | Rabbit |
Species cross-reactivity is determined by western blot.
Applications Key: W=Western Blotting,
Specificity / Sensitivity
Phospho-Tau (Ser202) Antibody recognizes endogenous levels of Tau protein only when phosphorylated at Ser202.
Phospho-Tau (Ser202) Antibody兔多抗仅检测内源性的丝氨酸202位磷酸化的Tau蛋白。
Source / Purification
Polyclonal antibodies are produced by immunizing animals with a synthetic peptide corresponding to residues surrounding Ser202 of human Tau protein. Antibodies are purified by protein A and peptide affinity chromatography.
该多克隆抗体是由合成的人源Tau蛋白丝氨酸(202位)肽段免疫动物而制备的。抗体由protein A和肽亲和层析技术纯化。
Western Blotting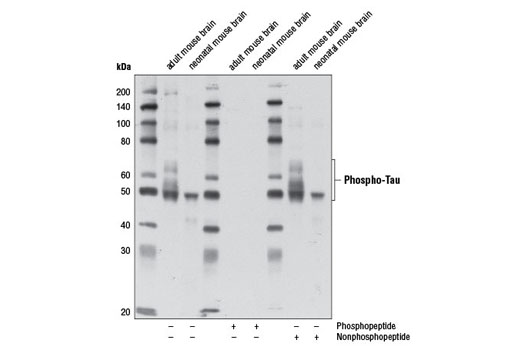 Western blot analysis of extracts from adult and neonatal mouse brain using Phospho-Tau (Ser202) Antibody. The phospho-specificity of the antibody was verified by blocking with a phospho or nonphosphopeptide.
Western blot 检测成熟和新生小鼠大脑提取物,使用的抗体是Phospho-Tau (Ser202) Antibody兔多抗。抗体的磷酸化特异性由磷酸化或非磷酸化肽段阻断试验验证。
Background
Tau is a heterogeneous microtubule-associated protein that promotes and stabilizes microtubule assembly, especially in axons. Six isoforms with different amino-terminal inserts and different numbers of tandem repeats near the carboxy terminus have been identified, and tau is hyperphosphorylated at approximately 25 sites by Erk, GSK-3, and CDK5 (1,2). Phosphorylation decreases the ability of tau to bind to microtubules. Neurofibrillary tangles are a major hallmark of Alzheimer's disease; these tangles are bundles of paired helical filaments composed of hyperphosphorylated tau. In particular, phosphorylation at Ser396 by GSK-3 or CDK5 destabilizes microtubules. Furthermore, research studies have shown that inclusions of tau are found in a number of other neurodegenerative diseases, collectively known as tauopathies (1,3).Investigators have shown that Tau is phosphorylated during development and hyper-phosphorylated at Ser202 in Alzheimer's disease (4).
Tau是微管相关蛋白异构物,尤其是在轴突中它能够促进和稳定微管装配。已鉴定Tau有六个亚型,其氨基末端有不同的的插入,羧基末端有不同数量的串联重复序列,tau蛋白可被ERK、GSK-3和CDK5在大约25个位点处被超磷酸化(1-2)。Tau蛋白磷酸化可降低其与微观的结合能力。神经纤维缠结是阿尔茨海默氏症的一个主要标志,这些缠结是由超磷酸化tau蛋白组成的成对螺旋细丝束。特别是在阿尔茨海默氏症中,GSK-3或CDK5对Tau蛋白Ser396的磷酸化可以导致微管的破坏。此外,Tau蛋白包涵体还在其它神经退行性疾病中被发现,这些疾病被统称为Tau蛋白病。研究已表明,阿尔茨海默氏病中,Tau在发育过程中被磷酸化,在丝氨酸202位发生超磷酸化(4)。
Application References
Have you published research involving the use of our products? If so we'd love to hear about it. Please let us know!
Protocols
11834 :
Companion Products
---
For Research Use Only. Not For Use In Diagnostic Procedures.
Cell Signaling Technology is a trademark of Cell Signaling Technology, Inc.
Cell Signaling Technology® is a trademark of Cell Signaling Technology, Inc.
用户评论 --- 共 0 条
该产品暂无评论!